All Fitness Tests
There are over 300 fitness tests described on this site. Here they have been divided into the different fitness categories as listed below, which should help you find the test you are after. A few of the popular tests in each category are listed, select 'more' for a comprehensive list of tests in each category. You could also try to search all or browse the complete alphabetical list.
---
---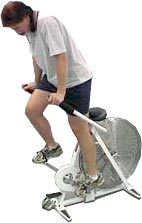 General
More Tests?
I have tried to include all of the commonly used fitness tests. There are many more that are conducted around the world, and I have many more to add. See the list of tests to add. I welcome any suggestions. If you wish to suggest a test that is not listed, or to add information or a comment to one that is already here, please e-mail me.
---
---
Related Pages

Any comments, suggestions, or corrections? Please let us know.