Illinois Agility Test (IAT)
Agility is an important component of many team sports, though it is not always tested, and is often difficult to interpret results. The Illinois Agility Test (Getchell, 1979) is a commonly used test of agility in sports, and as such there are well-established norms available.
purpose: to test running agility using various turns and movements
equipment required: flat non-slip surface, marking cones, stopwatch, measuring tape, timing gates (optional)
pre-test: Explain the test procedures to the subject. Perform screening of health risks and obtain informed consent. Prepare forms and record basic information such as age, height, body weight, gender and test conditions. Measure and mark out the test area using cones. Check the timing gate equipment and calibrate if required. See more details of pre-test procedures.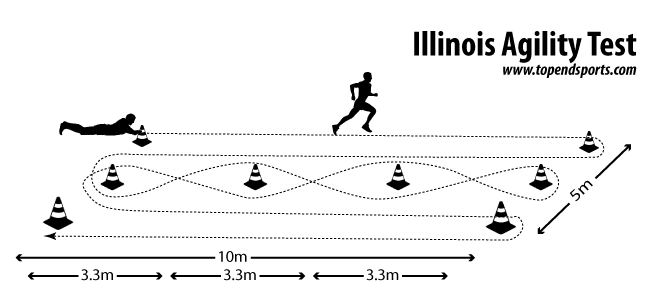 course layout: The length of the course is 10 meters and the width is 5 meters. Four cones are used to mark the start, finish and the two turning points. Another four cones are placed down the center an equal distance apart. Each cone in the center is spaced 3.3 meters apart.
procedure: Subjects should lie on their front (head to the start line) and hands by their shoulders. On the 'Go' command the stopwatch is started, and the athlete gets up as quickly as possible and runs forwards 10 meters to run around a cone, then back 10 meters, then runs up and back through a slalom course of four cones. Finally, the athlete runs another 10 meters up and back past the finishing cone, at which the timing is stopped. (see Illinois test video examples). Several trials should be completed, with the best score recorded.
results: An excellent score is under 15.2 seconds for a male, less than 17 seconds for a female. See the full rating norm scores for the Illinois Test.
advantages: This is a simple test to administer, requiring minimal equipment. Also, the player's ability to turn in different directions and at different angles are tested.
disadvantages: The choice of footwear and the running surface can effect times greatly. Results can be subject to timing inconsistencies, which may be overcome by using timing gates. This test does not distinguish between left and right turning ability. The test often takes longer than 15 seconds, at which stage fatigue will begin to play a greater part in the results. There is a modified Illinois Agility Test which is shorter but still has the same movement elements.
variations:
The starting and finishing sides can be swapped, so that turning direction is reversed.
Some variations have the participant turning at a line at the far end rather than running around a cone
Some variations have the participant touching the cone or line at the end with their hand
In the USA, sometimes the measurements of the course are 30 ft long by 15 ft wide
references: Getchell B. Physical Fitness: A Way of Life, 2nd ed. New York: John Wiley and Sons, Inc., 1979.
Similar Tests
Related Pages

Got any comments, suggestions or corrections? Please let us know.
Old Comments
Commenting is closed on this page, though you can read some previous comments below which may answer some of your questions.
Lies jimmy (2014)
very much doubt it you got 9.6 seconds unless you ran straight to the other end of the course! lies... anything below 18.5 is a very fast time
Ben (2013)
Got my time down from just under 19s (yes I was unfit) to 16.8s in about 4 weeks, with still room for improvement! Well chuffed with progress so far
You got schooled Sophie (2015)
easier for a smaller person to get a good score, lower centre of gravity
El (2014)
what are the everyday uses for the illinois agility test
Callum (2014)
Why are all you people bragging, it is just a agility test. Who Cares? Not Me and not everyone else
Zara kieron (2015)
I am a 13 year old girl and I got 16.63 so I don't think that's the world record. Appartenly under 17 secs is a good score?
Will (2014)
i get 16.4 on this test yet able to run 100 metres in 11.0.43 at 17....this test is useless
Charles Will (2014)
It's an agility test. Agility is how effciently you can change direction without losing speed. Top 100m sprinters are awesome at running at high speeds in straight lines, because that's what they train to do. But that type of running has very little agility based aspects. It's all in one plane of motion. You can't say that because your fast in straight lines, that you are fast round right corners. Look at footage of dwayne chambers doing American football... He's mega quick, but when it came to turning and changing direction, I would have put my money on a 18 wheel truck beating him. He was pants.