Measuring Flexibility using a Goniometer
A goniometer is a tool for measuring the range of motion of various joints around the body. Another instrument that can be used to measure flexibility is the flexometer.
---
---
purpose: the aim of this test is to measure the flexibility of a joint, which is important for injury prevention and execution of many sporting movements.
equipment required: Goniometer. There is a goniometer phone app.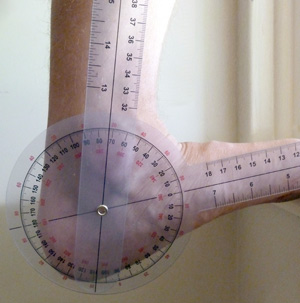 pre-test: Explain the test procedures to the subject. Prepare forms and record basic information such as age, height, body weight, gender. See more details of pre-test procedures.
procedure: To measure the range of motion at a joint, the center of the goniometer is positioned at the axis of rotation of a joint, and the arms of the goniometer are aligned with the long axis of the bones of the adjacent segments or to an external reference.
scoring: The measurement is the angle in degrees as read off the goniometer.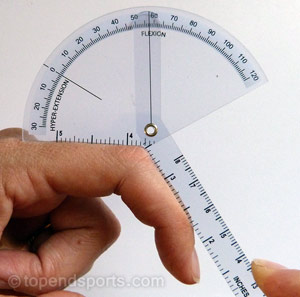 disadvantages: It is sometimes difficult to position and maintain the arms of the goniometer along the bones of the segments throughout the measurement, and the axis of rotation is not always clear, especially for complex joints.
Fitness tests that use a goniometer
---
---
Similar Tests
Related Pages

Any comments, suggestions, or corrections? Please let us know.