Bleep Test Athlete Results
> for comprehensive information on the multistage 20m beep test, see the Beep Test Home. You also may be interestedin the Norm Tables for the Beep Test.
Results
Despite there being lots of references to the beep/bleep test online, there are only limited instances of actual scores or results being published. The following are just some that are known or have been found through searching on the internet. Consider these scores with a grain of salt, as it is not always not known what test version or protocol are used (see variations), or how strictly the protocol has been enforced.
---
---
Top Scores
There are unconfirmed rumors that some athletes have completed the whole 23 levels of the test, which is highly unlikely. Top elite endurance athletes would be expected to reach up to level 19. See also details of best ever beep test results. Below are some of the test scores that have been found, with not all of them being confirmed.
Sports
AFL, Badminton, Basketball, Boxing, Cricket, Hockey (Field), Hockey (Ice), Rugby League, Rugby Union, Soccer, Squash, Track and Field, Motor Sports, other, Netball, Other (Female Sports, Celebrities, Juniors)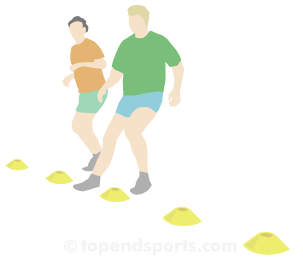 Soccer / Football
The best score in the beep test conducted for the Sporting Kansas City professional soccer team was by Jordi Quintilla. The previous year's winner was Christian Duke with 17-6 (from The Kansas City Star, 24 Jan 2016)
The US national team players are expected to cover 3,200 meters (as published in the Wall Street Journal, Mar 12, 2015) - by our calculations, that is level 16, an exceptional level.
In an article about Caribbean U/20 soccer players Perry Brooks, Valdere Murphy and Dwight Darling being selected for the Dayton Dutch Lions FC Super 20 League squad "When we first started, they scored a 7.6 and 8.6 on the beep test, now in our latest test, they both scored 13," They also said that collegiate programs usually require their players to score at least an 11 on their beep test (from the Tribune 242, May 2012)
Seattle Sounders FC, a team playing in the US major league Soccer competition, recently conducted a beep test on the squad (the scores were unusually reported as time completed). Five players beat the previous high mark of 10:50, including David Estrada, (11:46) Andy Rose (11:33). Others that did well were Mike Seamon, Cordell Cato and Alex Caskey. (from Seattle Times Online, Jan 26)
David Hewson, team captain of the Workington 'Reds', the premier non-league football club in West Cumbria, stared in the team's bleep test with a score of 16.3 (from http://www.newsandstar.co.uk, July 1, 2011)
The new Zealand football team 'All Whites' World Cup contender Jeremy Christie posted his best ever score of 16 in the beep test while playing professional football for the Tampa Bay Rowdies, a new club in the North American Soccer League. He said that put him up in the "Tony Lochhead, Leo Bertos range" (from stuff.co.nz, April 2010)
All S-League (the Singapore professional football league) players are required to reach level 13-1 before clubs are allowed to register them to play the 2010 season. Brazilian Peres De Oliveira recently ran his bleep test and easily achieved the required level by reaching level 13-4 (from theprotectorsblog, Jan 2010). - In 2013 a 2.4km run will be adopted as its mandatory fitness test instead of the beep test. 
An article in the Perth Sunday Times listed the fitness requirements for a range of sports. It stated that the players in the West Australian team Perth Glory team must exceed level 14 in the shuttle run test (from The Sunday Times, Jan 10, 2010).
In the Singapore Armed Forces Football Club (SAFFC), foreign import Taisuke Akiyoshi has recorded a level of 15.5, the highest for a SAFFC player. (from a post on the Kallang Roar website, Dec 2009)
Swedish football player Håkan Mild (IFK Gothenburg) had been rumored to have completed the test, but in a recent radio interview he set the record straight - he did a 19/2. That's about the best ever. (interview on swedish radiosporten, Jan 09). (see Beep Test Records)
Young potential star Nicholas Condylis, moved from Australia to play for Panathinaikos club in Greece two years ago at age 15. He recorded a 17.1 in the beep test, which put him up there with the international standard. (St George News, Feb 08).
The Indian Soccer squad has an average beep test score of 11.7, with Steven Dias as the best. The article reported that the world standard for soccer players is is 13.09, (as reported by the Hindustan Times online, July 2007).
Australian Brett Emerton, playing in the English Premier League for Blackburn Rovers, scored a level 15 in the beep test just before the 2006 World Cup (Vitalfootball.co.uk, June 2007) .
Casey Stoney, the Charlton women's football team captain, who is also an instructor in a gym, reached level 13. The rest of the English World Cup squad dropped out between eight and 12 (Timesonline.com, June 2007).
From the British F30 Futsal Program, they believe that being able to reach beyond level 11 is an absolute minimum to play the game effectively, but the player must have capabilities beyond level 13 to play internationally (retrieved March 2007).
An article in the Independent.ie reported that Dublin player Wes Hoolahan has beaten the test twice (May 07).
David Beckham has reputedly completed the test, which seems like a bit of hype. Another source I found said he has reached level 16, which seems more believable.
Australian player Nick Carle reached level 13.1 (March 07)
Brazilian import for the Melbourne (Australia) Victory team, Fred, is the fittest player in the squad, recording a level of 16 when he did the beep test (Jan 07).
English Premier League player Lee Gong Dook was reported to have reached level 17 (Jan 07).
---
---
Rugby Union
South African eastern province rugby union referee beep test requirements are: for SARU minimum standard is 12.5, for sub-union it is 10.5. (personal communication from referee)
The Fiji 7s team has been set a benchmark for players to achieve Level 13, and some of the players in the squad had achieved Level 13 in recent testing (The Fiji Times Online, 6 Jan 2013)
Fijian Alex Hodgeman, based in New Zealand, joined the Fiji U20 camp for the Junior World Championships - "Alex has been really impressive since he's joined us and he topped our forwards in the fitness test, running a level 12/6 in the beep test" (from the Fiji Times Online, May 2012)
New Zealand 7s player Frank Halai is about 110kgs and ran a 14 in a beep test at just 23 years old. (from the NZ Herald Online, Feb 2012)
Taranaki's Kylem O'Donnell reached an amazing 15.6, the highest coach Tietjens had seen in a NZ sevens camp. Kylem is the older brother of Chiefs' and former New Zealand sevens player Declan O'Donnell. He said "Caleb Ralph nearly hit 15 once and Roger Randle is also right up there but 15.6 is staggering". (from The Daily Post -Rotorua, Jan 21, 2012)
Australian Wallaby Digby Ioane produced the squad's best beep test with a score of 13.10 in January 2012, breaking the marks of Liam Gill and Dom Shipperley. (from nine msm rugby union article, 16 Jan 2012)
Assistant coach of the Fiji 7s squad, Etuate Waqa, says in the current fitness tests, players must settle for nothing less than level 14 in the beep test, which only Osea Kolinisau has managed to achieve. (from Radio Fiji website, Jan 4, 2012)
Kameli Rakoko writing for the Fiji Times online, said he expects that New Zealand will be super fit for the NZ 7s to be held in Wellington and are expected to be hitting level 15 to 16 on the beep test. If Fiji wants to win in Wellington everyone needs to be hitting level 16 on the beep test (from the Fiji Times online, 27 Dec 2011).
Chris White, the National Referee Academy manager at the RFU, said that the fitness test levels seem to keep going up and up. He said referees were at about 10.5 on the bleep test when he started, now at the top level it is 12.5 (from http://www.thisisgloucestershire.co.uk, Dec 29, 2011)
USA Rugby Sevens Coach Al Caravelli defined his ideal Rugby 7s player - among other physical attributes, he should have a VO2max of about 65 or higher, which translates into a beep test score of 15.5 or higher (retrieved from boxscorenews.com, Feb 2011).
USA Rugby Sevens Coach Al Caravelli said that this is the first team he has ever taken where everyone scored over Level 13 (from Ultimate Rugby 7s website, May 2010).
A new player in the USA Rugby Sevens squad, former Missouri football star Tommy Saunders, was the fittest player at camp. Saunders registered an impressive 14 on the beep test (from the bleacher report, March 2010)
An article by US Sevens player Dallen Stanford lists the minimum requirement set by the Coach Al Caravelli as Level 13, with many players going well above Level 14 and occasionally Level 15. The highest he had ever witnessed was Andrew McNaughton who ran around 16.4. (from Ultimate Rugby 7s website, 29 Sept 2009)
In a recent fitness test, the fitness coach of the Flying Fijians, Nacanieli Cawanibuka, set the beep test standard for the tight forwards at Level 12, while the standard for the loosies and the backs was at Level 13. No one reached the standards! Tailevu fullback Iliesa Keresoni was the first to drop out at Level 8.3, while at the other end of the scale Roko and Boko managed Level 11.8, Burotu Level 11.10, and the highest score was by Namosi second five eight Racika who fell just short of the Level 13 mark at Level 12.6 (reported in the Fiji Times Online, September 12, 2009).
Coach Al Caravelli said that players looking for selection in the US Rugby team should have at least a 13 in the beep test (reported on rugbyenews.com, 'How Club 7s Guys Can Make the Eagles', Aug 2009).
South African rugby player, Cheetahs' veteran lock Barend Pieterse, runs a 13-plus bleep test (iol website, Jul 08)
In 1999 the average Beep test for the Australian referees on the National Referee Panel was 11.2. This increased to level 11.11 in 2001 and 12.7 in 2004. The International Rugby Board (IRB) now have a minimum required level for their referees of 12.5 (reported in article from juniors.rugby.com.au, 2004 report).
The Indian rugby sevens team achieved an average of between level 12 and 14 after some pre-season training focusing on fitness (India Times website, Dec 07)
The Springboks in 2007 expected scores for the beep test range from 11.5 for the props up to 13.5 for the backs (conducted on grass, more on Springboks norms).
English rugby legend Martin Johnson said in an interview that he was able to achieve around 14 during his playing days (EuroSport Website, Oct 2007).
NSW (Australia) Under 17 rugby union squad are required to reach at least level 10.8 (Tamworth Leader, retrieved Aug 07).
Graeme Bachop, All Black scrum half, apparently did a level 19 in the early 90's.
Most professional rugby flankers score in the 12 to 13 range, while props score around level 10. Jonah Lomu, the awesome 260 lb winger from the New Zealand All Blacks, has a best of only level 10 explaining why he is a winger and not a number 8.
Fiji's Kini Qereqeretabua's effort in the beep test of 17.1 is very impressive, especially considering that he is 103kg. Team-mate Netani Suka recorded 16.7 (Jan 2007, from the Fiji Times). - maybe this was the yo-yo test?
English Union players Steve Backley and Neil Back were hitting level 16 (personal report, 2002). Flanker Neil Back is sometimes reported as having completed to the test, though in his autobiography he wrote that he reached level 17.
Rugby League
The Fiji national elite squad performed a beep test, level 12 was the highest score that was reached (from www.fbc.com.fj, 27 March 2016).
33 year old Cowboys player Matt Bowen was required get above 10 on the beep test to be considered for selection (Fox Sports Australia website Jan 19, 2016)
Colts player for the Sunshine Coast Sea Eagles, hooker Matt Gilliman, took bragging rights when the team was put to a beep test, reaching level 13.9. He was pushed all the way by Nambour Crushers junior David Oakes, who has switched to the Sea Eagles. (from the Sunshine Coast Daily, 16 Jan 2012).
Average from Newcastle Knights squad (n=98) was level 13.1 (range 10.6 - 15.7) (personal communication in 2009, Lee Clark). There are more fitness test results from the Newcastle Knights).
Newcastle Knights player Kurt Gidley holds the record at the club for the beep test at just under level 16, which he set a couple of years ago (before they stopped doing them, they now do a 6-minute run test). Most players averaged in the 12 or 13 range (from article in the Herald Sun, July 2008).
In an article about the fitness of Rugby League referee, Bill Harrigan says it is not uncommon for a ref to be reaching 15 in the beep test (goldcoast.com.au, July 08).
Field Hockey
It has been confirmed by an ex Australian Kookaburras player and AIS staff member that David Guest and Matt Swann have reached 16/10 in official beep test testing. The highest though is by player Zain Wright with 17 (April 2012)
Matthew Swann (Australian Hockey team) got 15/8 on 7 Sept 2011 (via his twitter acct). There are also reports that he achieved a 17.4 in 2010/2011.
The Malaysian Hockey Federation (MHF) has announced that it will introduce the beep test for players in the Malaysia Hockey League (MHL) for the upcoming season. Passing the test will be compulsory for all players. In the first year the pass mark will be lower, but in following years, players must pass the international mark (Level 14) to be eligible to play (from Hockey-Asia.com website)
The Canberra Lakers Hockey Team reached an average of 15.8 in preparation for the Australian Hockey League in 2008 (from the Canberra Times, Dec 2007).
The best players in the Australian Hockey team get to around level 17 (Livermore and Dwyer), most reach between 14-16, and a couple may just make 12.
The Malaysian Hockey Federation (MHF) announced that it will introduce the beep test for players in the Malaysia Hockey League (MHL) for the coming season, as they wanted to take the MHL to a higher level. Passing the test will be compulsory for all players. In the first year the pass mark will be lower, but in following years, players must pass the international mark (Level 14) to be eligible to play.
---
---
Cricket
142 Bangladeshi cricketers performed the beep test before the BCL. There is a pass mark of 11. Top scores were posted by pace bowler Ruyel Miah and wicket-keeper batsman Mahidul Islam Ankon, both scoring 13.2. Tushar Imran scored a score of 9.8, while the other seniors, like Abdur Razzak, Nayeem Islam and Shahriar Nafees reached 10.1, 10.5 and 11 respectively. Mohammad Ashraful scored 11.11. Left-arm spinner Mosharraf Hossain (returning after illness) registered the lowest score of 7.6. (published in bdcrictime.com, Jan 27 2020)
During a Big Bash match commentary discussion by Damien Fleming and Ricky Ponting, it was revealed that Australian legendary cricketer David Boon was surprisingly and consistently good at the beep test, scoring around 10 each time (from Jan 2017)
At a recent fitness camp the Bangladesh national cricket reached an all-time high, with an average 'beep test' score of the team hovering around 11. Player Nasir Hossain previously had scored 10/6, after the camp reaching 11/3. (as published in "Fitness levels at 'an all-time high' Sept 1, Daily Star)
Ex-English cricketer Darren Gough was talking about his 2011 tour of Sri Lanka, where he considered he was at the peak of his fitness and definitely on the fittest team he as ever involved with. On the day they arrived in Sri Lanka they had to do the customary bleep test and get to level 12.2 to be available for selection. It was performed at lunchtime in heat of 120 degrees on a tennis court with no shade, with everyone passing which was surprising as usually there was one or two that failed every tour (from msm SportUK, 25 March 2012)
English and Nottinghamshire cricketer Samit Patel was brought back to the one-day side last year after achieving no better than 12 on the bleep test, even though England's management have set a minimum standard of 12.5 for international players. He was included in the squad based on the grounds that he had made a significant improvement at last. (from The Telegraph online, 10 March 2012)
Nottinghamshire's Samit Patel showed progress in his fitness when he recently posted 12.1 on the 'bleep test' (from The Telegraph online, 18 June 2011)
Pakistani cricketer Younus Khan's Beep Test score is 12.5 (from the Match Point blog on the Express Tribune online, March 2011)
25-year-old leg-spinner Davendra Bishoo, Guyana's Cricketer of the year for 2010, was easily the best performer in the 'Beep test' and reached level 13.3 without breaking a sweat. (from Kaieteur News online, Dec 2010)
Cricketers from the Finnish national team are expected a score of 9 or above in bleep test. (from CricketFinland.com, June 2010)
It was reported that Australian coach Tim Nielson once challenged the Australian cricket academy boys that he would do better than them in the beep test, and he did it comfortably with 14.1. (from The Hindu online, June 2010)
The Pakistan cricket teams Australian born fitness coach David Dywer has been responsible for an improvement on their average beep-test scores from 10 to 11 over the last two years. (SMH, Jan 2010)
South African cricket captain Graeme Smith was reported to have achieved a Level 13 on the beep test three weeks previously (from a comment on The Science of Sport Blog, 30 Sept 2009).
Ex-South African champion Lance Klusener, at the age of 37, reached a very credible level 13.0 during testing for his ICL Royal Bengal Tigers side in India (cricinfo.com, Oct 2008)
NZ Central Districts player Brent Hefford achieved 13.3 on his first-up effort in the beep test (reported in Hawkes Bay Online, Aug 07).
Up and coming Australian cricketer from Tasmania, Ben Hilfenhaus, is regarded as one of the fittest players in Australian cricket. He has recorded a level 15 in the beep test (Jan 07).
Australian Rules Football (AFL)
Geelong Falcons 16 year old Edward McHenry set club records in the 2km run and beep test. He was the club's first player to achieve a level 16 beep test result, and also ran a 2km time trial in 6mins 03sec. (from the Melbourne Herald Sun, 23 Dec 2016)
Weeks after playing in South Adelaide's preliminary final, Caleb Daniel ran a 16.1 beep test, which led to him being taken up by the Western Bulldogs. (from the Melbourne Herald Sun, July 8 2016)
A new beep test record was set at the 2013 AFL combine, when Billy Hartung reached level 16.06, beating Brad Hill's 16.01 from 2011. See more 2013 combine results.  Hartung had also run a 16.6 beep test during his time with the AIS-AFL Academy  (Oct 2013)
TAC Cup testing day results: a 16.9 beep test run by Daniel Jackson from Gippsland Power (on Gameday.com.au), also Lachlan (Lachie) Whitfield from the Dandenong Stingrays scored a 16.4. It was apparently not the first time he had gone over 16. (sportingpulse.com, March 2012)
17 year old South Adelaide player Matt Spencely attended the AFL Draftstar Camp, run by former Hawthorn forward Ben Dixon, at St Peter's College on October 10, and recorded a top score of 16.1 in the beep test (from the Southern Times Messenger, Nov 2011).
Kane Mitchell (Claremont footballer) did 16.2 at the AFL/WA state combine in October 2011. (reported in WA newspapers 16/10/2011). Gippsland Power's Hayden Hector also achieved the same score in the Vic State screening tests (from AFL.com).
Brad Hill, younger brother of Stephen Hill of The Fremantle Dockers, scored 16/1 at the 2011 NAB AFL Draft Combine to set a new combine record (Oct 2011). The second best score 15/11 Will Hoskin-Elliottalso beat the previous record. More than 10 players set marks above level 15. See more 2011 draft combine results.
The strength coach at Subiaco Football Club (WA), Matt Barber, said that in his last year at Subi in 2007 the number of players who reached 15 on the beep test was 11. Early this year the number was only five, which he has back up to 16 now. (West Australian, Sept 16, 2011)
New Essendon recruit Dyson Heppell stunned onlookers by recording a 15-plus beep test early in 2011 (Hearld Sun, Jan 2011)
A footy fan sent me these beep test results which he belives to be true: Kane Cornes (Port Adelaide Midfielder) - 16.1, Bradd Dalzeill (Brisbane Midfielder) - 15.11, Brent Stanton (Essendon Midfielder) - 16.2. Also of note is the result of Daniel Bass (Rookie) of Port Adelaide who ran 15.5, significant because he is 198cm and 100kg. (received from Zac, Jan 2011).
The AFL held a testing combine Tonga in December 2010, testing 55 local youngsters which some impressive results. Peni Mahina, the younger cousin of Greater Western Sydney recruit Israel Folau top scored in the beep test with 12.11. (from AFL.com, Dec 2010)
Delisted Essendon forward Jay Neagle was given some fitness benchmarks, including reaching a beep test, or shuttle run, of more than 13. The article also indicated how hard that would be, saying that a beep test score of 15 and above is considered elite, anything around 10-11 is thought to be poor and substandard for an AFL player. (the Age Newspaper, Nov 2010)
A new draft camp combine record for the beep test was set by Hayden Hector with a result of 15/7. See 2010 draft camp results.
At an AFL testing day, Scott Spriggs of the North Ballarat Rebels side in the TAC Cup recorded a 16.3 beep. (personal communication, Sep 2010).
Top draft picks Tom Scully and Jack Trengove were the top two Melbourne players in a recent beep test, 15.8 and 15.4 respectively (Herald Sun, Feb 2010).
Now playing for West Coast Eagles, former Brisbane Lion Bradd Dalziell ran a club-record 16 in the beep test in the pre-season training period. (from AFL.com.au, 13 Jan 2010).
An article in the Perth Sunday Times listed the fitness requirements for a range of sports. It stated that West Coast Eagles players need to exceed 14.5 in the shuttle run test (from The Sunday Times, Jan 10, 2010).
During the 2009 AFL draft camp, the average of the beep test was almost 14, which is up nearly three shuttles over the camp average. The best was Brayden Norris from the Murray Bushrangers with 15-6, equaling the camp record. (reported on AFL.com.au, Oct 2009). Also, the "mean" for tall forwards was 12.9 with the best tall forward in Canberra achieving 13.3 (from The Age online). See more AFL draft camp results.
The top two in the West Coast Eagles club records for the beep test are 1. Callum Chamber who once reached 16.01, and 2. Chris Judd with 15.14. The next three had high 15s: Rowan Jones, Josh Wooden and Kasey Green (as seen on an Eagles clubroom tour, and quoted on BigFooty.com, Jun 2009).
The beep test is performed at the Draft Camp each year. Some of the best results in previous years are: 15.08 by Tom Rischbieth in 2005, and 15.06 by Jarrad McVeigh (2002) and David Spriggs (1999). See more draft camp results.
Dean Cox of the West Coast Eagles, a tall ruckman, is reported to score in the high 14s for the beep (The Daily Telegraph, April 09).
Essendon's Scott Gumbleton, who was the #2 draft pick in 2006, is preparing well for this season. He achieved 15.2 in the beep test, which is not bad for a player 200cm tall (from DreamTeamTalk website, Jan 2009).
West Coast Eagles: 19-year-old Mitch Brown, coming back from a knee injury, won the first pre-season
test with a score of 15.0. Midfielder Matt Priddis also scored 15.0 in the same test. (AFL.com, Oct 2008).
Brisbane Lions: Last year only four Lions recorded beep test scores of 15 or more. This year there were six, and three of the club's best runners - Luke Power, Simon Black and Joel Patfull - didn't participate. (Courier Mail, Jan 08).
Bomber Mark Johnson recorded a 15.2 beep test during the 2007 season, placing him in the elite group at Windy Hill (Herald Sun, Oct 2007).
At the 2007 Pre-Season Draft Camp, the potential top pick, ruckman Matthew Kreuzer had the 10th best beep test, reaching level 14.2. The best beep score this year was 15.2 by Cale Morton (Chris Judd got 15.1 back in 2001) (Oct 2007).
It is reported the reigning Premiers and reputedly the fittest team, the West Coast Eagles, have more than 12 players who score level 15 and above (Jan 2007).
Simon Black of the Brisbane Lions has the club record of 15.11 (from 2005)
At the AFL draft camp in 2005, Tom Rischbieth scored 15.08, beating the record of Sydney's Jarrad McVeigh 15.06 which he scored in 2002, and Sydney teammate David Spriggs 15.06 from the 1999 draft camp.
Ice Hockey
New recruit for the Montreal Canadiens Jiri Sekac impressed in training camp with outstanding fitness levels as he outlasted every Hab during the beep test posting an impressive score of 14.5 (www.thehockeywriters.com, Jan 4, 2015)
Cody Beach of the Calgary Hitmen (Western Hockey League, Canada) dominated the beep test, getting to level 12.5, while

Corey Scott (Moose Jaw Warriors) reached level 12.

(from the Calgary Herald online, Sep 2010).
Basketball
Phoenix Suns point guard Steve Nash reaches level 14 (published 2007).
Steve Nash reaches level 17 (unconfirmed)
Boxing
Amir Khan the 2004 Athens Olympic boxing silver medalist from Bolton, England got level 16 when he was 17 years old and he was not even fully fit. He did this at his college. It is in his autobiography. (from a site visitor, March 2010)
Gaelic Football
Offaly player Ciarán McManus reached level 14.7 during their first bleep test of the New Year (from the Independent.ie, Feb 2011).
Athletics / Track & Field
Champion and world record middle distance runner Sebastian Coe supposedly got to level 17 when at his prime.
Badminton
A lad called Justin Davies from Lancashire did level 16.4 as a 17 year old, at Lilleshall National Sports Centre in 1987, whilst part of an England U18 Badminton summer training camp. (personal communication, unconfirmed)
Squash
It has been reported that the extremely fit and two-time world squash champion Australian David Palmer has completed the beep test five times back-to-back. (Stuff.co.nz, April 2009). His coach makes him perform the test multiple times in training, though he was quoted as saying that he tries to "get close to 16 on the first one and then it drops down but I try to finish at 12 or 13" (article on Sydney Cricket Ground Trust website, retrieved 2009).
Motor Sports
The Honda 'Girls on the Gas' competition is an Australian women's motocross competition, which includes a fitness component using the beep test. The winner of the beep test in 2009 was Jess Gardiner (NSW) with a score of 8.3, and in 2010 the winner was Jess Moore, scoring 10.1.
Athletes from the motorcycling sports of Road Racing, Dirt Track and Speedway participated in the 2008 Elite Rider Camp at the Australian Institute of Sport. For the beep test component, Blake Leigh-Smith took the honors reaching level 14.2. (Motorcycling Australia website, Sept 2008)
Other Sports
16.1 achieved by Handball player Maurizio Minetti from Ossola, Italy in Oct 2009. (unconfirmed result, submitted by site visitor)
Taekwondo coach Ken Anstruther reports that his best athletes are in the 10.4 to 11 range for males and 9.3 – 10 for females.
Female Sport
Ange Foley's AFL female beep test record of 13.9 was broken by Heather Anderson at the AFL Talent Search screening in Darwin, she reached 14.5. (from the NT News, July 7, 2016)
During the Senior Womens Canadian National Softball team tryouts, 21 year old Samantha Frasch scored 8.6 on the beep test (from bclocalnews.com, July 2011).
The South Australian Under 15 hockey team coach expects all team members to all be at or above level 11.5 (as reported in the Yorke Peninsula Country Times, Sept 2008).
Fiona Johnson was one of the two fittest players in the Australian Hockeyroos squad (Field Hockey), having achieved an exceptional 14 in the beep test (reported in the Australian Online, Aug 08).
England's football Women's World Cup squad: Casey Stoney has got up to level 13, with the rest of the squad dropping out between level eight and 12 (as reported on thefa.com in June 2007).
For females, the UK National Women's Rugby seven a side to Hong Kong spring 2001 averaged over 11 with a range from 9 to 12.
Of the New Zealand female Field Hockey team (the Black Sticks), Muirhead and Weavers are the only females to have reached level 15. (from March 2007).
The Oregon University women's basketball team record is by New Zealander Micaela Cocks, who scored level 14 in 2007.
Netball
Queensland's Regional Academy Squad junior netball players were put through a beep fitness test in January 2016. The aim of the coach was to have most girls reach at least level eight, but many players dropped out at level three and four. She was hoping to get all the girls from 8-11 on the beep test but they only got one girl to 11. (form an article in the Fraser coast chronicle, 25th Jan 2016)
Tu Toa netballer Talia Hullena needed to score an 11 on the beep test to play for their senior side, and had only registered a 10.6 previously. She was given the chance to produce an 11 on the morning of the game and did so, and got a run in the last quarter. (from Manawatu Standard online, 6 June 2011).

For selection into the representative Northern Ireland U17 and U19 squads for the European Championships, the girls faced grueling selection processes including  the MSFT were they had to reach above a Level 10 on a Bleep Test

(retrieved Feb 2011 from the Wallace High School website).

New Zealand 'silver ferns'

hopeful

Hinerangi Moko-Kaa

needs to get to level 11, but currently has a score of

9.3. (from the Gisborne herald online, April '10]

A umpire from Warrnambool, Qalo Sukabula, won an Australian Sports Commission scholarship program for Netball Umpires. He recently recorded an 11 in the beep test. (from The Standard, Dec 12 2009)
New Zealand and Tactix netball captain Julie Seymour and can pop out three kids and still run level 14 on the beep test (as reported in the Otago Daily Times, May 2009). Also reported in stuff.co.uk, she has the best beep test in the whole Ferns group.
New Zealand standards require national standard netball umpire to be at 7-8 on the beep test. To get to international level you have to be at level 9 (from dompost website, May 2008).
Juniors
Andrew Murphy, a Bantam Hockey Player from Newfoundland (14 years and 3 months old), officially scored 14.0 on the beep test during the team NL U15 High Performance Program fitness testing in August 2012 (info received 28 Aug 2012 via email)
A message from Dean. My son (aged 13) is currently testing at a beep test of 13.2 he is a middle distance runner and plays football.  No one else in the area even comes close, he is "shattering" school records as he moves up through grades. Most trainers and teachers dont believe him until they see him run it, then they dont know what to think. (April 2012)
Students at Waswanipi Rainbow School in Quebec, Canada, listed their best scores for 2010, with some of the best scores by Nehemiah Cooper level 8.5 (grade 6), Giselle Happyjack-visitor level 7.5 (grade 6), (retrieved Jan 2011).
I received an e-mail from Ethan Morris, a 14 year old who is part of the sports academy program of Massey high school (Waitakere City, Auckland, New Zealand). He is an 400m runner (55 seconds). On August 24th 2010 he performed the beep test as part of the testing for the sports academy and managed to get to level 15.2, a very good score for his age.
Celebrities
On the 'Biggest Loser' show in Australia (Episode 27: Raw or straw), shown on 3 March 2009, the contestants did a multi-stage fitness or "beep" test. The results of this was combined with other medical tests to calculate their biological age – their body's age based on lifestyle choices, as opposed to their chronological age. The actual beep test results are unknown, though the announcement of "level 5.4" was heard, with all of them getting past that milestone.
---
---
Related Pages
---
BEEP TEST PACKAGE - only $10
The 20m Beep Test (male & female voices) + Training Levels + 'Beeps Only' track + Excel Spreadsheet + eBook Guide (PARQ, consent form, test recording sheet, warm-up, tips, norms + much more!)
The ultimate beep test package, including two versions of the beep test audio file (male and female voice), an audio track with only the beeps (no voices), 8 audio tracks for training at specific test levels, an Excel spreadsheet with an offline calculator and tables for recording, analyzing and presenting results, a 12-page eBook beep test guide which includes a PARQ, informed consent form, and test recording sheet plus much more. All these files are available individually for $5 each, or even better get them all for $10. Check out the details.
---

Any comments, suggestions, or corrections? Please let us know.
Old Comments
Commenting is closed on this page, though you can read some previous comments below which may answer some of your questions.
Nicholas Galvin (2019)
I am 12 and 7 months and I got 14.0 Don't have any scholarships or anything special
Zane (2015)
When i was 13 and i got to 15.1. 14 now
Kylie (2015)
My daughter Jessica-Belle Catheray-Harvey did the beep test a week or so ago (I was present) when she completed level 9.4. She is in grade 5 and is 10 years and 2 months old. She is a state league basketball player, swimmer, cross country runner and does gymnastics.
Trey kylie (2015)
Sounds like mommy is living through her daughter...sad!
Tony F. (2014)
My 10 (almost 11) year old son has just reached 10.3 in a school scholarship test.