World Best Beep Test Scores
The beep or bleep test, or more correctly known as the Multistage Shuttle Run Test, is a test of aerobic (endurance) fitness that is a common test undertaken by many team sports and school groups. See a description of the Beep Test. The test involves running between two markers 20 meters apart. There are several versions of the test, and the one that is used is not always reported with the results, and this should be considered when comparing test results. For example, there are versions of the beep test conducted over 15m, and the Yo-Yo test is sometimes mistakenly called the beep test.
---
---
There are some unconfirmed rumors that some athletes have completed the test, such as David Beckham (football/soccer), Lance Armstrong (cyclist) and Neil Back (England rugby player), which is completing 23 levels on the commonly used version. This is very unlikely - David Beckham is fit, but not the fittest in the teams he has played in, and Lance Armstrong is built for cycling not running - though when he retired from cycling he ran a few credible marathons, his best the 2007 New York marathon in 2:46:43 placing 232nd. We don't think anyone has completed the 23 levels.
As this is a field test of endurance that is often used to test large groups, the best endurance athletes in the world would probably not have even tried the test. Elite-level endurance athletes would more likely perform a VO2max test to measure their aerobic fitness.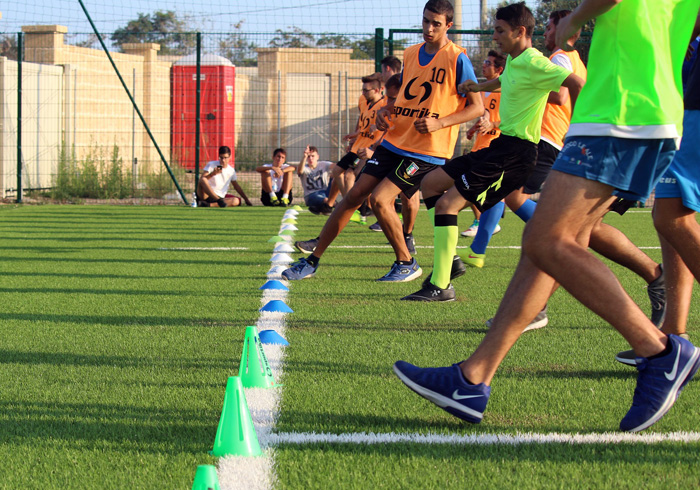 Male Top Performances
Many of these scores have not been verified. Data has mostly been collected from online newspaper articles and lists. Also check our lists of beep test scores from a range of sports. If you know of documented results that should be on this list it would be great to hear of them.
| rank | score | name | sport | notes |
| --- | --- | --- | --- | --- |
| =1 | 17/1 | Jose Romero | Australian Rules | VFL/AFL player at North Melbourne (1988–1994) and Western Bulldogs (1995–2001) |
| =1 | 17/1 | Marek Schirnack | Royal New Zealand Navy | Authenticated by two verified Physical Training Instructors (23rd November 2021). It is the RNZN Beep Test record. |
| =3 | 17 | Sebastian Coe | Athletics | commonly reported result from this UK middle distance champion runner |
| =3 | 17 | Lee Gong Dook | Football (Soccer) | Premier League player |
| =3 | 17 | Zain Wright | Field Hockey | Tasmanian Kookaburras player, score confirmed by ex-player and by AIS staff member. |
| =3 | 17 | Steve Nash | Basketball | NBA point guard, played with the Dallas Mavericks |
| =3 | 17 | Neil Back | Rugby Union | Flanker Neil Back wrote in his autobiography that he reached level 17 |
| =8 | 16/11 | Dean Murphy | Triathlon and Hockey | An unconfirmed result sent by Luke Evans. Murphy was 17 years old. Apparently it can be verified by Australian hockey player Brent Livermore. |
| =8 | 16/11 | Tim Deavin | Field Hockey | Achieved whilst performing a routine beep test with the Australian Kookaburras Hockey team in Perth Western Australia in 2014. |
| =10 | 16/10 | David Guest | Field Hockey | Australian field hockey player, score confirmed by ex-player and by AIS staff member. |
| =10 | 16/10 | Matt Swann | Field Hockey | Australian field hockey player, score confirmed by ex-player and by AIS staff member. |
| =12 | 16/9 | Kacper Zajac | Football (Soccer) | football player at Zagłębie Lubin, a Polish professional football club based in Lubin, Poland) - submited by a website reader, no other confirmation |
| =12 | 16/9 | Christian Merup | Ironman | performed during try-outs for a Swedish television "SVT Atlet", a show where men and women measure their strength in athletic challenges. The results were recorded by TV. He's 187 cm, 79 kg and an ironman contender and McKinsey consultant. (submitted by Anders Suneson, April 2014). |
| =12 | 16/9 | Daniel Jackson | AFL | AFL player from Gippsland Power achieved in March 2012 TAC testing |
| 15 | 16/7 | Tim Brown | Football (Soccer) | Wellington Phoenix midfielder. Apparently it wasn't even his best result, having previously "just touched" 17. (Stuff.co.nz Aug 4, 2010) |
| =16 | 16/6 | Billy Hartung | AFL | Player from the Dandenong Stingrays, achieved at the AFL combine. This is the best ever result at the AFL Combine (from 2013) |
| =16 | 16/6 | William Murphy | AFL | achieved at the Vic Metro combine in 2012 |
| =18 | 16/4 | Scott Spriggs | AFL | Player from the North Ballarat Rebels TAC cup team, from about 2010. He has achieved several scores above 16 during AFL Victorian state testing. |
| =18 | 16/4 | Lachlan (Lachie) Whitfield | AFL | AFL player from the Dandenong Stingrays achieved this score in TAC testing, March 2012. |
notes: I previously had listed hockey player Brent Livermore with 17/2. His best has now been confirmed by an Australian Institiute of Sport staff member to be 15/10.
To be Confirmed
The Australian 400m/800m athlete Chris Colwill achieved a 18/5 in Mackay in 2008. This was video recorded at the Mackay hockey grounds. Apparently this is not an unusual result according to him but he states it is not reflected in his running ability or times. He reckons he has a high lactate threshold but not a large VO2max. (details received from Peter Reynolds, Jan 2012)
Dan Finster wrote to me and said he ran a 17.9 beep test at the South Australian Institute of Sports in 2002, as part of the National Speed Skating team.
Hello, I am a redshirt sophomore for Pitt State Men's basketball team. I recently took the beep test and scored 17.4, my coaches and trainer can vouch for it! (RJ Lawrence, Oct 2020)
Disputed High Scores
19/2 Håkan Mild: There is a report of Football (Soccer) player Håkan Mild achieving 19/2. Mild played for IFK Gothenburg. He had been rumored to have completed the test, though his best of 19/2 was confirmed by him on Swedish radio (an interview on radiosporten - http://www.sr.se/cgi-bin/radiosporten/nyheter/artikel.asp?artikel=2593043 link no longer working, from January 2009). As this score is way above other scores that have been recorded, it may actually be a result from the yo-yo test, developed in Scandinavia and commonly used to test soccer players.
19 Graham Bashop. There was a report of Graham Bashop All Black Rugby Union scrum half achieving level 19 in the early 90's, though again it is probably the result from a yo-yo test.
17/1 Kini Qereqeretabua. Fijian rugby union player, achieved in 2007. If true, this effort is very impressive, especially considering that he is 103kg. The result was taken from an article in the Fiji Times (link not working). In the same article, another player Netani Suka is listed as achieving 16/7.
Female Top Performances
There are not many results online for top female performances in the beep test. The scores below are just a sample, and generally have not been verified. Data has mostly been collected from online newspaper articles and lists. Also check our lists of beep test scores from a range of sports. If you know of documented results it would be great to hear from you.
| rank | score | name | sport | notes |
| --- | --- | --- | --- | --- |
| 1 | 15/0 | Suzie Muirhead | Field Hockey | testing of the New Zealand Field Hockey team (the Black Sticks) (from March 2007) |
| | 15/0 | Diana Weavers | Field Hockey | testing of the New Zealand Field Hockey team (from March 2007) |
| 3 | 14/5 | Heather Anderson | AFL | from AFL Talent Search screening in Darwin |
| 4 | 14/0 | Micaela Cocks | Basketball | The Oregon University women's basketball team record is by New Zealander Micaela Cocks scored this result in 2007 |
| | 14/0 | Fiona Johnson | Field Hockey | one of the fittest players in the Australian Hockeyroos squad (reported in the Australian Online, Aug 08) |
| 6 | 13/9 | Ange Foley | AFL | |
| 7 | 13/8 | Monique Hollick | AFL | The 27 year old from New South Wales set the women's AFL beep test record during the league's women's talent search in 2016. She also runs 2km in just over 6 min 20 sec. |
| 8 | 13/0 | Casey Stoney | Football (Soccer) | England's football Women's World Cup squad testing (as reported on thefa.com in June 2007) |
| 9 | 12/6 | Felicity Maltby | Tennis | the female record holder at the Eagle Fustar Tennis Academy in California. Achieved in Spring 2011. |
Other Beep Test Records
Matthew Gardner, RAF trainer from Doncaster UK, attempted a 24 beep test record with his work colleagues in Dec 2012. For the attempt, 20 teams of four people will continuously do the test. A member of each team will take the bleep test and pass their level, so every time there are 20 people taking the test. Once every one from the 4 has passed their test the next member from each team will take their test and so on. This means that within the hour each member of the team will have passed the test. Once the next hour starts the process is repeated until every member of the team will have taken the test 24 times. A total of approximately 40,000 meters in total per person. See more.
Mike Buss - Ultra Endurance Athlete. Mike Buss apparently set six world records in just one weekend at the Swindon Designer Outlet Village, Nov 2005, running the multi-stage fitness test at different categories carrying a weight on his back of 40, 60lbs and 120lbs in weight, with and without wearing a full Nuclear Biological Chemical Warfare Suit. Unfortunately the report did not state what he achieved in the tests.
---
---
Related Pages
---
BEEP TEST PACKAGE - only $10
The 20m Beep Test (male & female voices) + Training Levels + 'Beeps Only' track + Excel Spreadsheet + eBook Guide (PARQ, consent form, test recording sheet, warm-up, tips, norms + much more!)
The ultimate beep test package, including two versions of the beep test audio file (male and female voice), an audio track with only the beeps (no voices), 8 audio tracks for training at specific test levels, an Excel spreadsheet with an offline calculator and tables for recording, analyzing and presenting results, a 12-page eBook beep test guide which includes a PARQ, informed consent form, and test recording sheet plus much more. All these files are available individually for $5 each, or even better get them all for $10. Check out the details.
---

Any comments, suggestions, or corrections? Please let us know.
Old Comments
Commenting is closed on this page, though you can read some previous comments below which may answer some of your questions.
I'm currently at St Helens College in St Helens Merseyside on a NCFE Public and uniformed services level 2 and my maximum score this year has been 15.0 20m and last year my maximum was 16.1 but only 15m I'm currently the fittest out of lvl 1 and 2 I dint know about lvl 3 I've never seen them do one. Kyle Onza (2015)
My mate damo did it in 17/1 yesterday. Its extra impressive because he is 105kg and 5 foot tall. He was also eating a doughnut at one point in the attempt and only stopped at 17/1 out of respect to Kini. Fred (2013)
I don't quite understand how you guys are getting this fractional score... all I know is that I went 82 laps in the 20m test which is a little over a mile. Cody Fred (2016)
I got 18, but instead of using a 20m length, we used 7' 9", and instead of running end to end, we stayed at one end and threw darts at a board. Scott (2014)
Jack Chloe (2014)
Adult beep test is 20 meters unlike children school beep test which is 10 meters
I know this is 3 years old...but bahaahah @ people claiming they did 16/7 in the beep test at adult range. Unless you are a professional athlete (aka do fitness for a living) you will not place near 16/7 in the adult beep test. I did Judo for 7.5 years. 4 days a week of training while also doing school. I managed 16/1 along with a friend who ran marathons and is a PT. People I knew who were on the Australian Judo team for years on end would place just below me. None of you placed close to this on an adult track. Especially not as kids. Voltzy Me Person (2017)
Mob Fit Chloe (2020)
Rubbish you lot need measure correct distance etc
Marymede (2013)
My school beat the record for most people doing the beep test at once! #Proud
Pete Marymede (2015)
also known as most tortured victims at once #cruel
Sam (2014)
I'm a 2002 and I got the best in my grade ever for a very big school 13.8
Cody Sam (2014)
Yea but u probably did 15 metres instead of 20. I got 9.1 (not very good but second best in the class) on 20 metres. Apprently the average for a 12 yr old is 5.5.
Albert Cody (2016)
Lol you said you did bad?! I got 5.3!
Jake Albert (2016)
Are you kidding me? I got 9.3 on a 20m track at the age of 9 and 7/8ths! And that was fifth in the class. Some other kid got 12.3, but my cousin somehow got 12.4!
BeepTestMachine (2014)
lol@ these comments.
Usedtobefit (2013)
Did a 15.9 , but turning so front foot was behind line (didn't listen!). First and last time.
Bob (2013)
some one told me that Nathan Van Berlo (AFL) holds the record at 17/2
Rob Admin bob (2013)
At the 2004 AFL draft camp combine, Van Berlo had the top score of 15/2. I don't know if he has scored any better since.
ChelskiFan Rob (2014)
Didn't the NZ Rugby Union player Conrad Smith get 19.4?
Rob Admin ChelskiFan (2014)
I had heard that, but most likely a result from a yo-yo test
Arkash (2014)
footballers get 23
Tim (2014)
im twelve and I did 14.6 the other day trying to compare it to my afl role models for example brad hill#10
Momocertified (2020)
im 14. Ans i got 13.0 in 20m beep test. Thats the same as ex pro female footy player casey stoney. Bruh and she's top 8.
Josiah Lichti (2020)
Just did the 20m beep test with my PE class and scored 16/7. I'm 5'10'' and 14 years old roughly 130lbs. How'd I do?
Sister of Her (2019)
One of my younger sister's friends, who's thirteen, achieved an 8.1 (highest score for the girls) in the 20 metre Beep Test, where the shuttles are like this (1.1, 1.2, 1.3, 1.4, 1.5, 1.6, 1.7, 1.8, 1.9 BEEP 2.1, 2.2, 2.3, 2.4, 2.5, 2.7, 2.8, 2.9, BEEP 3.1 etc) Two boys, one a Year Six and the other a Year Seven, made it to 10.1. Disappointingly, four boys apparantly dropped out at 6.9. She (the younger sister, who's 11) made it to 6.7 and she's like 130 cm and around 28 to 32 kgs (no offense, but she's basically undersized)
Sarah (2018)
I am 11 years old and scored 12.5 on the beep test. I know that is not that good compared to some records but is for track and field 100m -- 14.12 and 1500m 5.15 good? I don't really know since there is not many runners at my school which is far away from the city.
Sarah (2018)
I am 11 and got 12.5 on the beep test. I know that's probably not that good compared to some, but there is not many runners at this country school of mine. Is 14.47 good for 100m at my age or 1500m as 5:44. I don't know, but have a goodd day.
Mingo (2018)
What about some scores from top female athletes? It would be cool to see how we measure up to Serena Williams, Allyson Fenix, Lolo Jones, Heather O'Reilly, and the like!
Rob Admin Mingo (2018)
Great idea Mingo. I had added a few female results that I have come across, but I'm sure there are many more that could be included on the list - does anyone have any results to add?
Trent (2017)
my best is 11 at 14'
Lewi (2017)
i'm 14 my top score is 14.8 i set that three days ago
Kurita (2017)
I scored a 14:13 when I was a senior in high school and nearly passed out from exhaustion right after. The two best athletes on our team (soccer) both scored 17:1 and I looked at them like they were gods. I can't believe this test's intervals go into the 20s......
Kurita (2017)
I did 14:13 when I was a senior in high school and nearly passed out from exhaustion right after. The two fittest players on our team (soccer) made it to 17:1. I remember looking at them like they were gods. I can't believe this test's intervals goes into the 20s......
Tristan Harker (2017)
I got 84 on a 20 meter length I could have gotten a 100 but I set the record so I felt good about myself
Blake (2017)
Lol I got 13.5 and I'm 13 in a 20 metre
Flynn Wicks (2017)
I got 12/2 today and i'm 13!!
Leila Flynn Wicks (2019)
Oh damn, I got 12/1 today and I'm 13 too!
Gavin Malsol McManus (2017)
Our rugby team did the Beep Test here in Guam. We are a United States Military Stronghold. So the thought to train hard is inevitable. And we were known as the Tribal Dolphins, "Guardians of the Sea". I happen to be Captain my Senior year, and it was third quarter, of the School Year, the Quarter we play Rugby and challenge all the other highschool's. I happened to be 17 because my birthday is late in September. and I also happened to be Captain, so there was a lot of pressure on my fitness levels. Long story short, I had done the "Multistage Fitness Test/ Beep Test" till the Voice on the Recording said, "That was the Final level of the Entire 'Beep Test' or 'Multistage Fitness Test'" I don't quite remember what level it was, cause I just kept running. and I ran till there were no more "BEEPS" left. Then soon after, about a year later I joined the Army, and found out I have CANCER, so not only did I complete it. But I had a CONDITION. so I mean.. I know it sounds cocky.. but I must've made a record and been the fittest man alive.. or should I say "Teen" cause I was only seventeen. I got a Medical Discharge and I was given a "Medical Veteran's" Pass, for the remainder of my Contract. and they couldn't have me. Sucks. because. I know with my ambitions and experience, I would've served this country proud and be one of our greatest.. ..
Christopher Godet (2017)
Hi ya there. My name is Christopher Godet and I'm a collegiate soccer player at Mount Aloysius College. At the age of 17 in my freshman year i ran a 17.1 on the beep test during our preseason fitness.
Michael Murray (2017)
I got the beep test record for my school as a grade 9, I weigh 110 lbs and got to level 17/1. My main sport is basketball, if you want to add it to the record list
Damitree (2016)
Note that if you did this on a basketball court it was likely 15m each lap not 20m. I took the test with 15m and got 16/7 (could've pushed harder 🤔😂)
Oscar (2016)
We did this at school today (year 9) and the whole time one of the teachers was yelling at us that level 8 is as difficult as walking to the shops and that to be considered somewhat fit you have to get to stage 11.
Nobody even got above stage 10, so he wasn't exactly happy.
Paul Jamieson (2016)
I have only just come across this site and I competed in the bleep test in the summer of 96 and recorded a score of 17.3 for which I received a trophy. the only problem was that i was incarcerated which probably makes me the worlds fastest prisoner? Not something to be proud of but still an achievement.
Jim Graham (2016)
I was tested on the beep test twice in 2000 aged 35 at RMIT Bundoora Human Performance Centre on both occasions reaching 16:1 This compares well with my 1500m running time of 4:05 that year. In 1991 aged 26 at Victoria University I was tested on a treadmill VO2Max test at 71.8ml/kg/min and had best running times that year of 31:58 for 10km (Victorian Road Championships) and 3:59.0 for 1500m track. Unfortunately back then I'd never heard of the beep test. Using on-line calculators on this site all figures compare very closely to my actual VO2Max result. Now aged 47 with a hip replacement I still managed a 12:4 against my VCE PE class. Not bad for an old hack :-)
Beazus (2016)
Also query how well one does it. how lenient the testers are, etc.
Jason (2016)
There are 100s of people who have beaten this record but off the record in the military. I am currently serving in the parachute regiment and I got a top score of 16.4. I've seen my colleagues in the 16 Air Assault Brigade and the Special Air Service reach 18 and beyond. You should go to the SAS Hereford Base and they will show you some records you would believe.
Joe (2016)
It depends on the acceptable technique too. Some allow continuous running i.e. u turns at each end and not stopping and waiting for the beep hence school kids boast of scores of 15. When you make people run, stop, turn, wait for the beep,run, stop, turn etc you are lucky to get a 4.0 out of most people. The whole idea of the beep test is to use as many muscles as possible that all demand oxygen at the same time and continuous running does not do that. It MUST be stop/start every 20 meters and that 50 shuttles of that is entirely different (and much harder) than running a continuous kilometer.
Kate Bell (2016)
My son who was in the Katherine Athletics Club as a young boy and went to the 2008 PSG is now at the ANU in Canberra where he has joined the ANU soccer comp. At training week before last there was a beep test, the first he has done since getting 15.something at an U16 AFL comp in QLD in 2014.anyway: now, aged 18 he scored 17.
Cobi (2016)
I'm 12 and I got 16/4. Now I feel like a prodigy
Lol Cobi (2016)
it was probably less than 20 metres
DOZER23 (2016)
I achieved a score of 14.1 at school the other day over 20m
Barack Fan (2016)
Im 13 and we did 3/4 of a basketball court which is 22.86 metres and I got 11.9
CF (2015)
My information, all be it 2nd hand is that Seb Coe completed the entire 21 levels, and not just on one occasion. 17.1 is NOT a world record. I have also been advised that David Beckham has surpassed this score, along with a couple of Brit rugby league players. I have a PB of 17.2 recorded in 1993 as a nod with the Royal Marines, this fell short of the Corps record even then. Hope this helps. As for the many minors posting scores on this thread; Take note there are variations in this assessment. If you are however, completing the full 20m, then anything over 13 is excellent. Anything over 15 is elite and if you are under 16 and hitting 17 then you are either mistaken, an error has occurred or you are lying. Should that be the case, remember, you are only cheating yourself. PS Re Elise comment; the beep test is not a start / stop test as such. The cycle is continuouous if you time it right. One has to be hitting the line and turning in one motion on the beep. This may take practice although is not difficult once you get going. Planting the foot and driving off is essential. No disrespect to Elise meant, but civilian PT is substantially below par to knowledge / performance / motivation / safety. My 19 years in the trade will substantiate this.
Elise (2015)
A beep test to be accurate has to be a stop/start motion. most of these scores are inaccurate as people just continuously run and do not wait for the beep. at the beginning the participant should run then wait at the line for the beep to run again. when the intensity is lifted your for has to make it before the beep but if they reach the line before the beep they must wait UNTIL the beep to continue. So everyone here i ask you to retry your score and tell me what you get doing this. I bet barely any of you will get over a 10. Btw i'm a personal trainer at Anytime Fitness, Australia and play hockey for my state.
Skutansomsjönk (2015)
Am pretty sure Mild actually did the beep test. It was common test by football teams in Sweden. Did it myself. On the interview wih Mild. He doesn't say what his result was. Just that he didn't finish the test, as one rumor told.
Me Person (2015)
I'm 13 and we did 20m and I got 10/7
Jacksyn Me Person (2015)
yeah last year I was 13 and I ran a 11/3 on 20m (in year 8)
I came 5th in my grade
Chad (2015)
I'm dubious about most people's beep test boasts. You would think they'd film and record everything these days. So why is there no hard evidence anywhere? David Beckham completing the test? Yeah right, I guess John Candy probably got to level 15 back in the 80's too ;-p
Zanz (2014)
my school record is 17/3 set bye a guy who got top 10 at state for cross country
Michael (2014)
I would love to know what cross-country skiers score on this test . Less then two years ago I scored 13/8 and now I am 3 stone heavier and out of breath walking up the stairs.
John (2014)
There was a guy called Mirek who got 16/4 when he was at the AIS soccer team.
AyyJay (2014)
I remember back in third year of high school, 2004 i got a 14.3
Darren (2013)
dude my p.e teacher said the average for a adult male is 18-22
Pt Darren (2015)
you're kidding right? The NSW AIS hockey opens men's team has to get over a 15 and that's high. the 18-22 is the yo-yo test. I'm a personal trainer and i get a 15.2 in the beep test.. Most people in these comments are telling lies if they say they get over 16.9..
Aussiegrt (2013)
Tim Deavin Hockey Australia 16-11
DSLJ (2014)
IN OUR SCHOOL THEY DO IT AS LAPS IM IN 6TH GRADE AND MY HIGH SCORE IS 54
Older Comments
Hi I am 12 and I did my first beep test and got a 10.1 I could have went longer but all my friends were cheering me on and I couldn't hear the beep I will try again and get back to you. (from Carly isaac, Apr 2013)
I did the test in 93 (aged 15) through the Australian Institute of Sport as part of a cycling scholarship program they were running at my high school. I'd just had a smoke less than 5 min before being told we all had to do the test. I managed a result of 17.6. (from Geoff, Mar 2013)
What's the record for a 13 year old cos my athlete just recently got 15.6. I still have to double check on that but he's telling me he got 15.6. I'm thinking that's incredible, have to be world record for 13 year old. (from Brad Schofield, Mar 2013)
Kenenisa Bekele the 10km world record holder easily finished all 23 levels of it :) (from thisistrue ... igotitofftheinternet, Dec 2012)
Robert Harvey ex st kilda (AFL) recorded 18.5 and 18.8 in the late 90's (from Justin, Oct 2012)
You should check out lee chong wei bleep test. It is around level 21+ (from Aaron, March 2012)
Matthew Swann from the Australian Hockey Team completed a 17.4 in the last 12 months (2010/11) in Perth and David Guest also from Hockey recorded a 17.2 in 2009-10 sometime. (from Paul MacKinnon, Oct 2011). - note: Scores for these players have since been confirmed and are listed in the table above.