World Best Beep Test Scores
The beep or bleep test, or more correctly known as the Multistage Shuttle Run Test, is a test of aerobic (endurance) fitness that is a common test undertaken by many team sports and school groups. See a description of the Beep Test. The test involves running between two markers 20 meters apart. There are several versions of the test, and the one that is used is not always reported with the results, and this should be considered when comparing test results. For example, there are versions of the beep test conducted over 15m, and the Yo-Yo test is sometimes mistakenly called the beep test.
There are some unconfirmed rumors that some athletes have completed the test, such as David Beckham (football/soccer), Lance Armstrong (cyclist) and Neil Back (England rugby player), which is completing 23 levels on the commonly used version. This is very unlikely - David Beckham is fit, but not the fittest in the teams he has played in, and Lance Armstrong is built for cycling not running - though when he retired from cycling he ran a few credible marathons, his best the 2007 New York marathon in 2:46:43 placing 232nd. We don't think anyone has completed the 23 levels.
As this is a field test of endurance that is often used to test large groups, the best endurance athletes in the world would probably not have even tried the test. Elite-level endurance athletes would more likely perform a VO2max test to measure their aerobic fitness.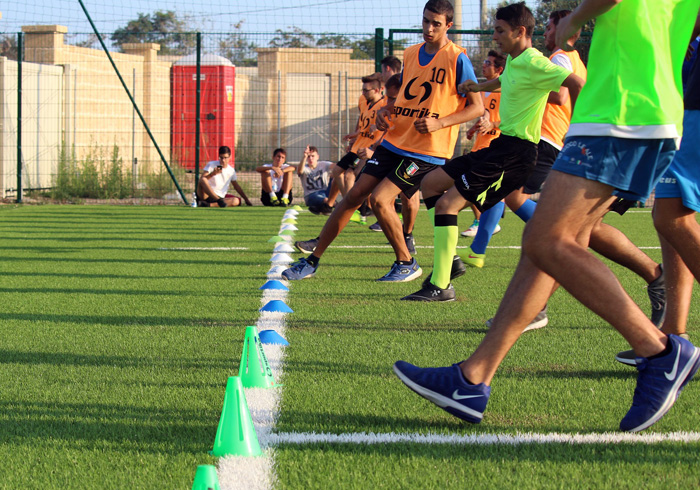 Male Top Performances
Many of these scores have not been verified. Data has mostly been collected from online newspaper articles and lists. Also check our lists of beep test scores from a range of sports. If you know of documented results that should be on this list it would be great to hear of them.
| rank | score | name | sport | notes |
| --- | --- | --- | --- | --- |
| 1 | 17/1 | Jose Romero | Australian Rules | VFL/AFL player at North Melbourne (1988–1994) and Western Bulldogs (1995–2001) |
| =2 | 17 | Sebastian Coe | Athletics | commonly reported result from this UK middle distance champion runner |
| =2 | 17 | Lee Gong Dook | Football (Soccer) | Premier League player |
| =2 | 17 | Zain Wright | Field Hockey | Tasmanian Kookaburras player, score confirmed by ex-player and by AIS staff member. |
| =2 | 17 | Steve Nash | Basketball | NBA point guard, played with the Dallas Mavericks |
| =2 | 17 | Neil Back | Rugby Union | Flanker Neil Back wrote in his autobiography that he reached level 17 |
| =7 | 16/11 | Dean Murphy | Triathlon and Hockey | An unconfirmed result sent by Luke Evans. Murphy was 17 years old. Apparently it can be verified by Australian hockey player Brent Livermore. |
| =7 | 16/11 | Tim Deavin | Field Hockey | Achieved whilst performing a routine beep test with the Australian Kookaburras Hockey team in Perth Western Australia in 2014. |
| =9 | 16/10 | David Guest | Field Hockey | Australian field hockey player, score confirmed by ex-player and by AIS staff member. |
| =9 | 16/10 | Matt Swann | Field Hockey | Australian field hockey player, score confirmed by ex-player and by AIS staff member. |
| =11 | 16/9 | Kacper Zajac | Football (Soccer) | football player at Zagłębie Lubin, a Polish professional football club based in Lubin, Poland) - submited by a website reader, no other confirmation |
| =11 | 16/9 | Christian Merup | Ironman | performed during try-outs for a Swedish television "SVT Atlet", a show where men and women measure their strength in athletic challenges. The results were recorded by TV. He's 187 cm, 79 kg and an ironman contender and McKinsey consultant. (submitted by Anders Suneson, April 2014). |
| =11 | 16/9 | Daniel Jackson | AFL | AFL player from Gippsland Power achieved in March 2012 TAC testing |
| 14 | 16/7 | Tim Brown | Football (Soccer) | Wellington Phoenix midfielder. Apparently it wasn't even his best result, having previously "just touched" 17. (Stuff.co.nz Aug 4, 2010) |
| =15 | 16/6 | Billy Hartung | AFL | Player from the Dandenong Stingrays, achieved at the AFL combine. This is the best ever result at the AFL Combine (from 2013) |
| =15 | 16/6 | William Murphy | AFL | achieved at the Vic Metro combine in 2012 |
| =17 | 16/4 | Scott Spriggs | AFL | Player from the North Ballarat Rebels TAC cup team, from about 2010. He has achieved several scores above 16 during AFL Victorian state testing. |
| =17 | 16/4 | Lachlan (Lachie) Whitfield | AFL | AFL player from the Dandenong Stingrays achieved this score in TAC testing, March 2012. |
notes: I previously had listed hockey player Brent Livermore with 17/2. His best has now been confirmed by an Australian Institiute of Sport staff member to be 15/10.
To be Confirmed
The Australian 400m/800m athlete Chris Colwill achieved a 18/5 in Mackay in 2008. This was video recorded at the Mackay hockey grounds. Apparently this is not an unusual result according to him but he states it is not reflected in his running ability or times. He reckons he has a high lactate threshold but not a large VO2max. (details received from Peter Reynolds, Jan 2012)
Dan Finster wrote to me and said he ran a 17.9 beep test at the South Australian Institute of Sports in 2002, as part of the National Speed Skating team.
Disputed High Scores
19/2 Håkan Mild: There is a report of Football (Soccer) player Håkan Mild achieving 19/2. Mild played for IFK Gothenburg. He had been rumored to have completed the test, though his best of 19/2 was confirmed by him on Swedish radio (an interview on radiosporten - http://www.sr.se/cgi-bin/radiosporten/nyheter/artikel.asp?artikel=2593043 link no longer working, from January 2009). As this score is way above other scores that have been recorded, it may actually be a result from the yo-yo test, developed in Scandinavia and commonly used to test soccer players.
19 Graham Bashop. There was a report of Graham Bashop All Black Rugby Union scrum half achieving level 19 in the early 90's, though again it is probably the result from a yo-yo test.
17/1 Kini Qereqeretabua. Fijian rugby union player, achieved in 2007. If true, this effort is very impressive, especially considering that he is 103kg. The result was taken from an article in the Fiji Times (link not working). In the same article, another player Netani Suka is listed as achieving 16/7.
Female Top Performances
There are not many results online for top female performances in the beep test. The scores below are just a sample, and generally have not been verified. Data has mostly been collected from online newspaper articles and lists. Also check our lists of beep test scores from a range of sports. If you know of documented results it would be great to hear from you.
| rank | score | name | sport | notes |
| --- | --- | --- | --- | --- |
| 1 | 15/0 | Suzie Muirhead | Field Hockey | testing of the New Zealand Field Hockey team (the Black Sticks) (from March 2007) |
| | 15/0 | Diana Weavers | Field Hockey | testing of the New Zealand Field Hockey team (from March 2007) |
| 3 | 14/5 | Heather Anderson | AFL | from AFL Talent Search screening in Darwin |
| 4 | 14/0 | Micaela Cocks | Basketball | The Oregon University women's basketball team record is by New Zealander Micaela Cocks scored this result in 2007 |
| | 14/0 | Fiona Johnson | Field Hockey | one of the fittest players in the Australian Hockeyroos squad (reported in the Australian Online, Aug 08) |
| 6 | 13/9 | Ange Foley | AFL | |
| 7 | 13/8 | Monique Hollick | AFL | The 27 year old from New South Wales set the women's AFL beep test record during the league's women's talent search in 2016. She also runs 2km in just over 6 min 20 sec. |
| 8 | 13/0 | Casey Stoney | Football (Soccer) | England's football Women's World Cup squad testing (as reported on thefa.com in June 2007) |
| 9 | 12/6 | Felicity Maltby | Tennis | the female record holder at the Eagle Fustar Tennis Academy in California. Achieved in Spring 2011. |
Other Beep Test Records
Matthew Gardner, RAF trainer from Doncaster UK, attempted a 24 beep test record with his work colleagues in Dec 2012. For the attempt, 20 teams of four people will continuously do the test. A member of each team will take the bleep test and pass their level, so every time there are 20 people taking the test. Once every one from the 4 has passed their test the next member from each team will take their test and so on. This means that within the hour each member of the team will have passed the test. Once the next hour starts the process is repeated until every member of the team will have taken the test 24 times. A total of approximately 40,000 meters in total per person. See more.
Mike Buss - Ultra Endurance Athlete. Mike Buss apparently set six world records in just one weekend at the Swindon Designer Outlet Village, Nov 2005, running the multi-stage fitness test at different categories carrying a weight on his back of 40, 60lbs and 120lbs in weight, with and without wearing a full Nuclear Biological Chemical Warfare Suit. Unfortunately the report did not state what he achieved in the tests.
Related Pages
---
BEEP TEST PACKAGE - only $10
The 20m Beep Test (male & female voices) + Training Levels + 'Beeps Only' track + Excel Spreadsheet + eBook Guide (PARQ, consent form, test recording sheet, warm-up, tips, norms + much more!)
The ultimate beep test package, including two versions of the beep test audio file (male and female voice), an audio track with only the beeps (no voices), 8 audio tracks for training at specific test levels, an Excel spreadsheet with an offline calculator and tables for recording, analyzing and presenting results, a 12-page eBook beep test guide which includes a PARQ, informed consent form, and test recording sheet plus much more. All these files are available individually for $5 each, or even better get them all for $10. Check out the details.
---
Comments
Old Comments
Hi I am 12 and I did my first beep test and got a 10.1 I could have went longer but all my friends were cheering me on and I couldn't hear the beep I will try again and get back to you. (from Carly isaac, Apr 2013)
I did the test in 93 (aged 15) through the Australian Institute of Sport as part of a cycling scholarship program they were running at my high school. I'd just had a smoke less than 5 min before being told we all had to do the test. I managed a result of 17.6. (from Geoff, Mar 2013)
What's the record for a 13 year old cos my athlete just recently got 15.6. I still have to double check on that but he's telling me he got 15.6. I'm thinking that's incredible, have to be world record for 13 year old. (from Brad Schofield, Mar 2013)
Kenenisa Bekele the 10km world record holder easily finished all 23 levels of it :) (from thisistrue ... igotitofftheinternet, Dec 2012)
Robert Harvey ex st kilda (AFL) recorded 18.5 and 18.8 in the late 90's (from Justin, Oct 2012)
you should check out lee chong wei bleep test. It is around level 21+ (from Aaron, March 2012)
Matthew Swann from the Australian Hockey Team completed a 17.4 in the last 12 months (2010/11) in Perth and David Guest also from Hockey recorded a 17.2 in 2009-10 sometime. (from Paul MacKinnon, Oct 2011). - note: Scores for these players have since been confirmed and are listed in the table above.