Beach Sprints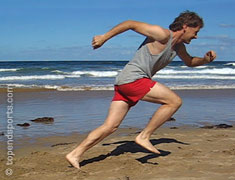 Equipment Required:
none, just yourself and a nice stretch of beach
Technique
Running in the sand is best done in bare feet.
Mark a start and finish line in the sand 20-30 meters apart
Crouch down facing the direction you are going to sprint
When ready, accelerate with long powerful strides to the finish line.
Repeat 5-10 times
---
---
Key points to remember
If it is sunny, don't forget to cover yourself up with a hat or some sunscreen. If it is hot, be sure to drink lots of water to stay well hydrated.
Alternatives
You can change the starting position to lying flat, and start the sprint with a jump up and turn (see image).
For a more demanding workout, you can do some repeated sprints, by shuttling up and back between the lines several times
For a more intense workout, try sprinting up some sand dunes.
---
---
Related Pages

Any comments, suggestions, or corrections? Please let us know.