Chester Step Test
The Chester Step test is a sub-maximal multistage stepping test of aerobic capacity, developed by Professor Kevin Sykes. It is a variation of a stepping type fitness tests (see other step tests), and is a test commonly used in the UK.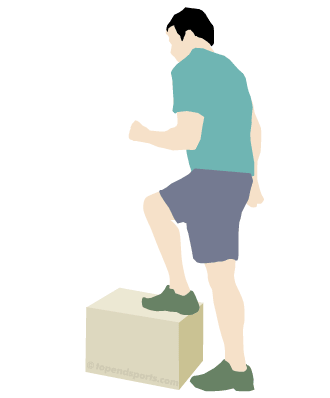 advantages: minimal equipment is required and the test is very portable. The test is designed to be flexible in assessing people with a wide range of absolute aerobic fitness levels by having adjustable step heights.
disadvantages: for some groups, subjects may not honestly gage their Rate of Perceived Exertion for various reasons such as saving face among peers. If the step height is not adjusted for subject age and physical activity, as is sometimes done, then shorter subjects may be at a disadvantage.
history: The Chester Step test was developed by Kevin Sykes while at Chester College – a College of the University of Liverpool, and was developed to assess aerobic fitness in fire brigades in Britain, Europe, USA, and Asia.
references

Sykes K. Chester step test; resource pack (Version 3). Cheshire, UK: Chester College of Higher Education, 1998.
J P Buckley, J Sim, R G Eston, R Hession, R Fox, Reliability and validity of measures taken during the Chester step test to predict aerobic power and to prescribe aerobic exercise. Br J Sports Med 2004;38:197–205.
Sykes K and Roberts A, The Chester step test—a simple yet effective tool for the prediction of aerobic capacity, Physiotherapy, Volume 90, Issue 4, December 2004, Pages 183-188.
Similar Tests
Related Pages
Popular Content
Comments