Measuring Heart Rate
Your heart rate can be taken at any spot on the body at which an artery is close to the surface and a pulse can be felt. The most common places to measure heart rate using the palpation method is at the wrist (radial artery) and the neck (carotid artery).
---
---
Other places sometimes used are the elbow (brachial artery) and the groin (femoral artery). You should always use your fingers to take a pulse, not your thumb, particularly when recording someone else's pulse, as you can sometimes feel your own pulse through your thumb.
Manual Method
Radial Pulse (wrist) - place your index and middle fingers together on the opposite wrist, about 1/2 inch on the inside of the joint, in line with the index finger. Once you find a pulse, count the number of beats you feel within a one minute period.
Carotid Pulse (neck) - to measure your heart rate at the neck, place your first two fingers on either side of the neck until you can feel the beats. Be careful not too press to hard, then count the number of beats for a minute.
You can estimate the per minute rate by counting over 10 seconds and multiplying this figure by six, or count over 15 seconds and multiply by four, or over 30 seconds and doubling the result. There are obvious potential errors by using this shorthand method. The longer you can measure for the more accurate your result. If you have a heart rate monitor, this will usually give you an accurate reading.
Monitor Method
A heart rate monitor or ECG/EEG can be used to get a more accurate heart rate measurement. There is now also a heart rate phone App that can measure heart rate too.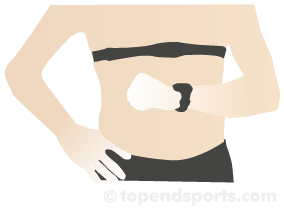 This is particularly important during exercise where the motion of exercise often makes it hard to get a clear measurement using the manual method. Using a heart rate monitor is also useful when you wish to record heart rate changes over short time periods, where the heart rate may be changing. Many heart rate monitors are able to record the heart rate values to be reviewed later or downloaded to a computer. See also Heart Rate Monitors - how they work.
Many heart rate monitors require at least a little body perspiration between the chest strap and the skin for best conduction of the signal. Make sure that there is a good connection between the chest strap and your chest, and you can add some water or other fluid to increase the conductivity too.
---
---
Related Pages

Any comments, suggestions, or corrections? Please let us know.
Old Comments
Commenting is closed on this page, though you can read some previous comments below which may answer some of your questions.
I use a heart rate monitor (with chest strap) to measure my RHR.  Question: what's the minimum sustained time needed to qualify as an RHR?  Specifically, yesterday morning I rested in bed and watched my monitor.  At my most relaxed, the value tended to fluctuate between 45 and 46 bpm (yes, I'm an athlete).  However, it once dipped to 44 and then 43 bpm, displaying 43 bpm for about a second, and then sustained about 7 or 8 straight seconds at 44 bpm.  So what's my RHR? (from theorist, Apr 2013)

The standard is a measurement over a one minute period. Most heart rate monitors will display a measurement which averages the last several seconds, or even longer. You should at least use the steady level, and ignore any short term changes or random fluctuations. (Rob)

Is measuring heart rate with a pocket Doppler device more accurate than taking a carotid or axial pulse with your fingers? (from Freda, Dec 2012)

Electronic devices generally will be more accurate if working correctly

Is there a relation between pulse rate and blood pressure? (from GEORGE AZIZ, Nov 2012)
What does the heart rate test actually measure? (from leanne and rene, Nov 2012)
Is the NUMBER of  heart beats counted for one minute after the completion of a 3 minute step test the same number as the HEART RATE after one minute's rest following a 3" step test? (from Kay Kammer, Sept 2012)

It depends on what you are using to measure the heart rate. Most devices like a heart rate monitor will record the average of the last few beats, so at the end of the minute it will only reflect the heart rate at the end of that time, not the average of the previous minute. (Rob, Topend Sports)

Hmm where can you find the aside from the radial and carotid pulse where else can you take your pulse rate ?? pls. help me pls :(
I can't get an accurate reading by putting my 2 fingers on my wrist. My friend told me to put my two fingers between my legs to get an accurate reading, you know what I mean. How well does this method work? (Julie, July 2012)

Hi Julie well he is right about the reading on your leg just not between them, close to your thigh its the best reading you can get out of the other too however due to OHS issues many people or hospitals don't do that any more (from Hannah, Aug 2012)