Beep Test Decimal Score
If you conduct the beep test on a large group of athletes, it is difficult to calculate the team average - usually the spreadsheet program will interpret, for example, level 10.10 as the decimal 10.1. In order to get the average of a number of scores, you need to know the number of shuttles on each level, and convert each score to a decimal score.
To work out team averages you need the results in decimals, which you can do using the table below. For each possible score on the test, below it is listed the equivalent decimal value of that score.
Alternatively, you can use the excel spreadsheet that I created which automatically calculates the decimal value for any score. Check it out.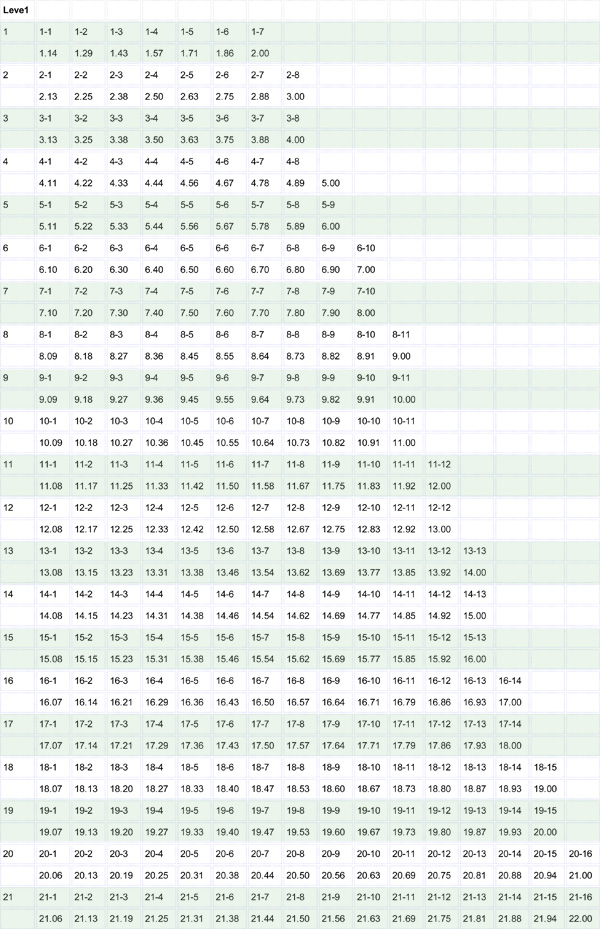 Related Pages
---
BEEP TEST PACKAGE - only $10
The 20m Beep Test (male & female voices) + Training Levels + 'Beeps Only' track + Excel Spreadsheet + eBook Guide (PARQ, consent form, test recording sheet, warm-up, tips, norms + much more!)
The ultimate beep test package, including two versions of the beep test audio file (male and female voice), an audio track with only the beeps (no voices), 8 audio tracks for training at specific test levels, an Excel spreadsheet with an offline calculator and tables for recording, analyzing and presenting results, a 12-page eBook beep test guide which includes a PARQ, informed consent form, and test recording sheet plus much more. All these files are available individually for $5 each, or even better get them all for $10. Check out the details.
---

Got any comments, suggestions or corrections? Please let us know.