Who are the World's Fittest Athletes?
Who is the fittest athlete of all time? For some, the fittest is the athlete with the highest aerobic (endurance) capacity. However, fitness should not be defined by just one ability, there is a range of components and abilities that make up fitness, and most sports require the athletes to be proficient at many of these.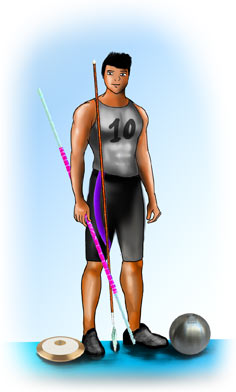 Being fit for a sport requires that the athlete reach or exceed the level of competence in just the fitness capacities of that sport, which makes it hard to compare athletes from different sports. See information about testing for the fittest athlete and some more candidates for the title.
The fittest guy will not necessarily be the world's greatest athlete, a title that requires not only superior fitness but exceptional sporting skill and possibly other attributes. See the discussion on the world's greatest athlete. You may also be interested in reading about the Fittest Sports, which looks at which sports are considered to have the fittest athletes.
Every now and then someone tests, compares and analyzes athletes, and comes up with a list of the fittest and label someone as the 'fittest athlete in the world', or something similar. We have found several of these lists of the world's fittest athletes, and not surprisingly they do not agree. Some lists are limited to a certain sport, region, or time period. Comparing athletes across sports and over time to find the fittest athlete ever is very difficult, and possibly impossible. Still, many have tried.
With fitness being a difficult thing to define, these lists are always controversial. Here are some lists of the fittest individual athletes.
---
---
'Fittest Athletes' Lists
---
---
Related Pages

Any comments, suggestions, or corrections? Please let us know.
Old Comments
Commenting is closed on this page, though you can read some previous comments below which may answer some of your questions.
Really? No Kelly Slater on this list? A superstar in a sport that requires extreme fitness and coordination and is by far one of the most dangerous in the world, with more fatalities than any of the other sports represented here. He was the youngest world surfing champion ever at 20, the oldest at 39, with the most championships at 11 (five of them consecutive) in spite of being retired for three years in the middle of his prime, and at 49 is still #18 in the world. The next oldest on the professional tour is 33 and the average age is around 25. Also, not athletic-related but he's played guitar on stage with Pearl Jam and Ben Harper, was an actor in Baywatch, and dated Pamela Anderson, Gisele BĆ¼ndchen and Cameron Diaz... and that has to count for something... Bruce (Jan 2022)
I think a dark horse amateur to add to an honorable mention list is from the mountain and ultra world is Jason Hardrath who has broken more mixed-discipline records in the mountains this year than anyone, ever. some of these records are over 100 miles long and involve glaciated terrain, mountain crossings, and technical rock climbing. He does many of them solo, shattering previous times by hours sometimes. Randy Reed (2020)
My personal assessment of an athlete is by how many different sports he/she can perform in at a high level. I don't just mean similar sports as in Racket/paddle sports but a greater variety of different unrelated sports. Shuttlecocker (2017)
First off I competed for top honors and like Jim Brown even though I won in the semi
finals my losing opponent went on to try to take what belonged to me. Jim Thorpe has always done what no other could ever do win at every sport. Hercules against Sampson in ancient times mythological against biblical. How would Jenner in the mid-seventies at his ripe age do against the teenager Walker who mastered hard hitting and fast running sports bringing his team to a national championship at 18 if only he didn't get caught speeding and sign a pro contract who knows how his luck would have played out.