Chair push-up test
The push-up test is used to measures upper body strength and endurance. This variation, which uses a chair to raise the upper body, is used as part of the online Talent Identification for Beach Volleyball. In this test, the maximum number of push-up performed in 30 seconds is recorded.
---
---
equipment required: wall, a standard chair (about 46cm high), stopwatch, chalk/masking tape, even and firm floor surface.
pre-test: Explain the test procedures to the subject. Perform screening of health risks and obtain informed consent. Prepare forms and record basic information such as age, height, body weight, gender and test conditions. Perform a standard warm-up. See more details of pre-test procedures.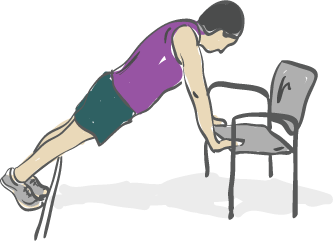 procedure: Shoes should be worn for best grip on the floor. Place the chair against the wall then lie face up with the soles of both feet in line with the front of the chair. Mark a line on the floor with the chalk/masking tape at the level of the elbows. Now stand and face the chair with the toes behind this marked line, and reach forward to place both hands shoulder width apart on the front edge of the chair. Straighten the arms, and ensure the body and legs are in a straight line, the arms should be at right angles to the body. When ready, complete as many push-ups as possible in 30 seconds. For a push-up to be counted, the subject must lower their body until their chest touches the front edge of the chair and then raise themselves back to the starting position until arms are fully extended. It is important that the body is kept in a straight line throughout the entire test. A push-up is not counted if not completed correctly.
scoring: Record the total number of correctly completed push-ups that were performed in 30 seconds.
target population: this test is used in Volleyball talent ID testing, and also the general eTID testing. As it is easier to perform than the standard push-up, it would be suitable for children and those of lower fitness levels.
advantages: this test is easy and quick to perform, and is suitable for people of all fitness abilities.
---
---
Similar Tests
Related Pages

Any comments, suggestions, or corrections? Please let us know.