Accu-Measure Skinfold Caliper
Skinfold calipers are used in the measurement of skinfold thickness and the estimation of total body fat. There are a range of skinfold calipers available, including the following simple and popular model from Accu-Measure, and another by Fat Control Inc.. Accu-Measure also produce the Fat Track Caliper.
---
---
Accu-Measure Skinfold Caliper
The Accu-Measure skinfold caliper is a small, simple and inexpensive plastic caliper, that is surprisingly accurate and reliable. This caliper is widely used due to its cheap price and partly due to its recommendation in the best selling book Body-for-LIFE by Bill Phillips. The Accu-Measure skinfold calipers are not as good as some of the much more expensive calipers that are available, but for personal use it does a great job for its price.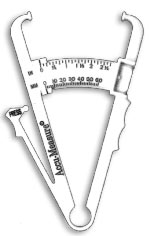 With such a small and convenient caliper, it is easy to accurately test yourself in the privacy of your own home. The caliper also has a unique feature that of a sliding marker that will remain after testing each site so that you can check your measurement before resetting it. Purchase of this product often includes instructions for body fat measurement, body fat measurement charts, and a chart for tracking results, making it a great do-it-yourself kit.
The Accu-Measure Fitness 3000 is available in the Fitness Testing Store.
Fat Control Inc. Caliper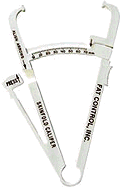 Another very similar product is the Fat Control Inc Skinfold Caliper. It is made of durable duPont material, produced from a one-piece injection mold. All of the markings on the caliper are engraved into the mold so that every caliper is identical and consistent in accuracy. The Fat Control Caliper has no springs to weaken or pop out, and is quite unbreakable. A unique thumb pressure device gives a consistent pressure at the tip for reliable measurements. The product often comes with a 24-page, illustrated instruction manual called Fat, Fat, Fat, which includes photographs to help identify the testing sites, and charts for easy interpretation of the skinfolds by sex and age group.
Others?
These and other skinfold calipers are available in the Fitness Testing Store. There is also information about the similar Fat Measure Caliper. These products can often be re-branded, and you will find many very similar products online, which are essentially the same product but with different brand names on it.
Buy
You can also purchase this item in our online store: Accu-Measure Fitness 3000
---
---
Related Pages

Any comments, suggestions, or corrections? Please let us know.