Polar Fitness Test
The Polar Fitness Test is unique in that it determines your fitness level without you having to do any exercise. The test measurement is based on heart rate variability (small changes in your resting heart's beating).
---
---
purpose: a simple test to calculate cardiovascular fitness level.
equipment required: polar heart rate monitor with Fitness Test function. Also equipment to measure your height and bodyweight.
procedure: In order to calculate your fitness level, you need to enter into your Polar heart rate monitor details of your gender, age, height, body weight and level of physical activity. To begin the test, relax in a laying or sitting position. Avoid any disturbances such as talking during the test or surrounding noises. During the five minutes, the progress is displayed graphically on the monitor.
results: Your score (Polar OwnIndex) is comparable to VO2max, ranging from 25 to 95. You can use the VO2max tables for comparison.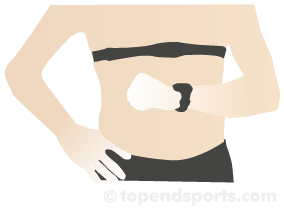 target population: A simple and safe test for those starting out or of low fitness level, the elderly, and for those unable to exercise due to musculoskeletal disorders.
reliability: for maximal reliability of results it is recommended that you keep the testing place, time, body position and testing environment the same each time the test is repeated.
advantages: No other equipment is required. You can get a measure of your fitness safely, without doing any exercise, conducted all by yourself, and in only 5 minutes. The results are calculated automatically.
disadvantages: The results are partly based on your subjective self-assessed level of physical activity. This test cannot be as accurate as an exercise based test.
reference: Polar website
---
---
Similar Tests
Related Pages

Any comments, suggestions, or corrections? Please let us know.