Sit & Reach Flexibility at Home
Push Up | Sit Up | Squat | Step | Vertical Jump | Sit & Reach
This simple test is designed to measure the flexibility of your hamstrings and lower back. The sit and reach test has long been used as a test to represent a person's flexibility, though actual flexibility may differ around the body.
---
---
Equipment
ruler, step (optional, you could make your own sit and reach box if keen too)
Procedure
If you have completed the home tests in order, you will be well warmed up by the time you are up to the sit and reach test. Otherwise, go for a jog and do some stretching (see warm up for testing). Remove your shoes and sit on a flat surface, legs extended in front of the body, toes pointing up and feet slightly apart, with the soles of the feet against the base of the step (if there is no step, just any flat surface will do). Place the ruler on the ground between your legs or on the top of the step. Place one hand on top of the other, then reach slowly forward. At the point of your greatest reach, hold for a couple of seconds, and measure how far you have reached. If you have trouble straightening you legs, get a friend to help by holding the knees down flush with the ground. See also video demonstrations of the Sit and Reach Test.
Measurement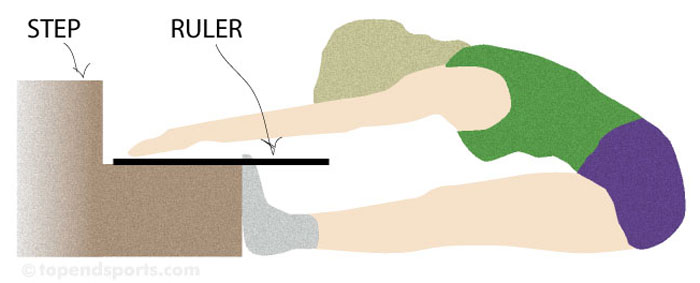 Mark or take note of your best score, take a measure in cm or inches beyond the base of your foot, or you did not reach your toes, measure how far before the feet you were (a negative measurement score).
How did you go?
Compare your results to the table below. Remember, these scores are based on doing the tests as described, and may not be accurate if the test is modified at all. Don't worry too much about how you rate - just try and improve your own score.
men
women
cm
inches
cm
inches
super
> +27
> +10.5
> +30
> +11.5
excellent
+17 to +27
+6.5 to +10.5
+21 to +30
+8.0 to +11.5
good
+6 to +16
+2.5 to +6.0
+11 to +20
+4.5 to +7.5
average
0 to +5
0 to +2.0
+1 to +10
+0.5 to +4.0
fair
-8 to -1
-3.0 to -0.5
-7 to 0
-2.5 to 0
poor
-20 to -9
-7.5 to -3.5
-15 to -8
-6.0 to -3.0
very poor
< -20
-8.0
< -15
< -6.0
---
---
---

Home Fitness Testing Manual

Download your free copy of the Home Fitness Testing Manual — a guide for you to plan, conduct, analyze and interpret fitness testing at home.

---
Related Pages
Related Products

Any comments, suggestions, or corrections? Please let us know.
Old Comments
Commenting is closed on this page, though you can read some previous comments below which may answer some of your questions.
CoriMoon (2014)
14 in. Yay! I'm a girl btw
RandomRandom (2020)
i got 20 and 21 inches at year at school
Sara (2015)
how exactly is this measured? I am supposed to reach 18.8 inches.. is that even possible!? Where does the measuring stick start? how can I be sure I am recording accurate data?
Lol Sara (2016)
It is possibe, i got 48cm, our school record is 54cm, I go to Melbourne Grammar school. And we get tested very strictly, Sara Ignore Robs comment, u are very flexible and you should be proud of it.
Lol Lol (2017)
Same I can personally vouch for him, I also go to Melbourne Grammar, but I'm not sure how the record is possible, because our box only goes to 50 cm, I can get possibly 53cm- 55cm, but I cant test because I get to the end of the box. Mr Coull our sports director just gave me a 52, because its very unusual to be that flexible, their not going to buy a new box just for me to get a new record,
You are confused Lol (2016)
48 centimeters is truly not physically possible using the above scale. The scale you used is just set differently.
Rob Admin Sara (2015)
Using the above procedure, getting 18.8 inches is not really possible. You are probably being tested using a different zero point. See more about it here: http://www.topendsports.com...
Jerryj Rob (2016)
My daughter just got 20.75 inches (11.75 past the end of her foot) -- or 52.7cm -- so, YES, getting 18.8 is very possible. I agree with the other comments here. Rob is wrong, and Sara, you are very flexible.