5 km Cycle Test
This is a cycling time trial test of aerobic fitness, requiring the subject to pedal on a cycle ergometer for 5km, in the shortest possible time (Buono et al. 1996). See also the 2-km cycle test conducted on a bicycle and track.
---
---
purpose: This test measures aerobic fitness and leg muscle endurance
equipment required: cycle ergometer (e.g. Monark), weight scales, stopwatch.
pre-test: Explain the test procedures to the subject. Perform screening of health risks and obtain informed consent. Prepare forms and record basic information such as age, height, body weight, gender. Record the test conditions, such as the weather, wind and track surface, particularly if testing is performed outside. Record details of the bike used, and the bike seat and handlebar height is set to the appropriate setting for the subject. See more details of pre-test procedures.
procedure: A standardized warm-up should be conducted. For two minutes the participant pedals at their own pace with the workload set at 1.0 kp. The workload is then increased for one minute at a value calculated based on body weight (calculated by dividing body weight in kilograms by 20 and multiplying the value for 0.5 kp) (Dantas et al., 2015). After 2 minutes rest, the subject pedals at the same calculated workload a self-selected pace for a total of 5km calculated distance.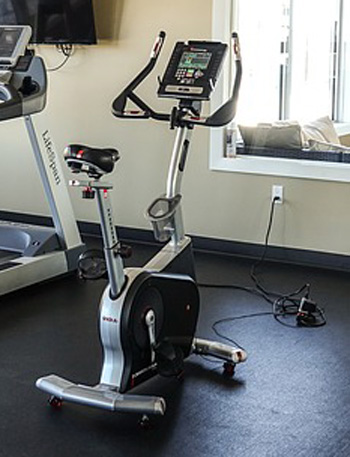 scoring: The total time to complete 5 kilometers recorded, in minutes and seconds.
advantages: a simple test to perform as long as the necessary equipment is available.
disadvantages: only one subject can be tested at a time.
comments:
To achieve the best result for this test, adequate practice and good pacing are required, and performance on this test can be affected greatly by motivation.
references:
Buono M.J., Borin TL, Sjoholm NT, Hodgdon JA. (1996) Validity and reliability of a timed 5 km cycle ergometer ride to predict maximum oxygen uptake. Physiol Meas 1996;17(4):313 317
Dantas, J. L., Pereira, G., & Nakamura, F. Y. (2015). Five-Kilometers Time Trial: Preliminary Validation of a Short Test for Cycling Performance Evaluation. Asian journal of sports medicine, 6(3), e23802.
---
---
Similar Tests
Related Pages

Any comments, suggestions, or corrections? Please let us know.