5 km Cycle Test
This is a cycling time trial test of aerobic fitness, requiring the subject to pedal on a cycle ergometer for 5km, in the shortest possible time (Buono et al. 1996). See also the 2-km cycle test conducted on a bicycle and track.
purpose: This test measures aerobic fitness and leg muscle endurance
equipment required: cycle ergometer (e.g. Monark), weight scales, stopwatch.
procedure: The bike seat and handlebar height is set to the appropriate setting for the subject. A standardized warm-up should be conducted. For two minutes the participant pedals at their own pace with the workload set at 1.0 kp. The workload is then increased for one minute at a value calculated based on body weight (calculated by dividing body weight in kilograms by 20 and multiplying the value for 0.5 kp) (Dantas et al., 2015). After 2 minutes rest, the subject pedals at the same calculated workload a self-selected pace for a total of 5km calculated distance.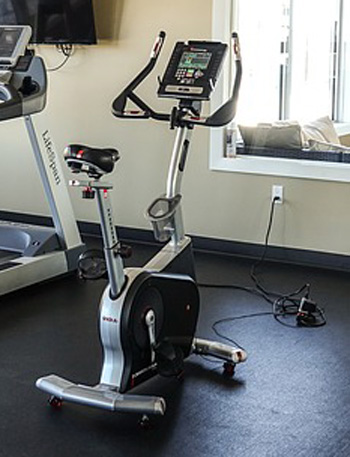 scoring: The total time to complete 5 kilometers recorded, in minutes and seconds.
advantages: a simple test to perform as long as the necessary equipment is available.
disadvantages: only one subject can be tested at a time.
comments: To achieve the best result for this test, adequate practice and good pacing is required, and performance on this test can be affected greatly by motivation.
references:

Buono M.J., Borin TL, Sjoholm NT, Hodgdon JA. (1996) Validity and reliability of a timed 5 km cycle ergometer ride to predict maximum oxygen uptake. Physiol Meas 1996;17(4):313 317
Dantas, J. L., Pereira, G., & Nakamura, F. Y. (2015). Five-Kilometers Time Trial: Preliminary Validation of a Short Test for Cycling Performance Evaluation. Asian journal of sports medicine, 6(3), e23802.
Share:
Facebook Twitter Google+
Related Pages
Popular Content
Comments