Sprint Test Results
Speed or sprint tests are commonly conducted as part of a fitness test battery. The test can be conducted over a range of distances, anywhere from short acceleration tests over 5 or 10 meters, up to 60meter speed endurance tests. The time is recorded using a stopwatch or timing gates.
---
---
10 meter sprint
Sprint times over very short distances are usually recorded as split times during a sprint over a longer distance. When doing a 40m sprint, you can use timing gates to get split times at 5, 10 and 20m to assess acceleration speed.
The fastest runner at the 2019 MLS combine was DeJuan Jones. In his 3.82 second 30m dash, he hit 10 meters in 1.61 seconds.
An article in the Perth Sunday Times listed the fitness requirements for a range of sports. It stated that West Coast Eagles players need to run 10m in under two seconds. The West Australian team Perth Glory football (soccer) team must be able to run 5m in under a second and 20m in under 3 seconds (from The Sunday Times, Jan 10, 2010).
Pakistani cricketers Afridi and Mohammad Hafeez have recorded a 10m sprint time of 1.79 and 1.80 seconds respectively (from the Match Point blog on the Express Tribune online, March 2011)
20 meter Sprint Test
The 20m sprint test is one of the tests at the Australian Football annual combine. The best ever 20m sprint time at the AFL combine is 2.75 seconds by Joel Wilkinson in 2010. Brad Harvey ran 2.78 the same year, and Jonathon Marsh also ran 2.78 seconds in 2013. See the list of top combine scores. See a collection of 20m results from the AFL and other sports.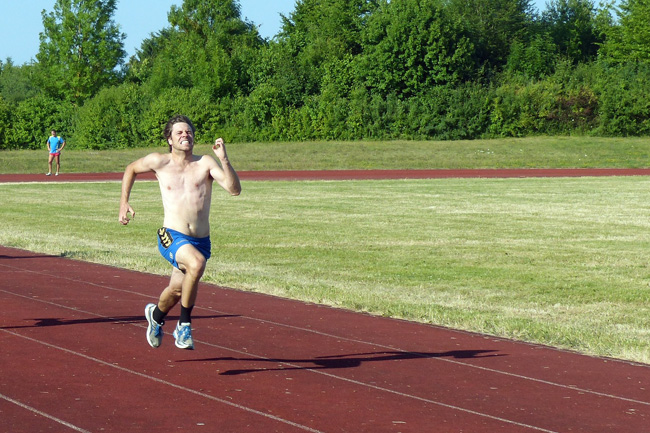 30 meter Sprint Test
The 30m sprint test is used in the MLS Combine. See a collection of 30m results from the several sports.
40 meter / 40 yards Sprint Test
The 40 yard sprint is one of the events at the NFL testing combine. See a collection of 40m/40yd results from the NFL and other sports.
100 Meters
The 100 meters is the shortest sprint event at the Olympic Games. The world record for the 100m is held by Usain Bolt, currently at 9.58 seconds which he ran at the 2009 IAAF World Championships. See a video of his 9.69 seconds WR run at the Beijing Olympics.
---
---
Related Pages

Any comments, suggestions, or corrections? Please let us know.