American Football Trivia
Here is our collection of football trivia
---
---
In 1905, 18 men died from injuries sustained on the football field. President Theodore Roosevelt stepped in and instituted safety measures to make the game safer.
The first pick (by Eagles) in the first NFL draft in 1935, was Jay Berwanger from the University of Chicago. He never played in the league.
The 'huddle' in football was formed due to a deaf football player who used sign language to communicate and his team didn't want the opposition to see the signals he used and in turn huddled around him.
The first Rose Bowl game was held in 1902 in Pasadena, California. The University of Michigan beat Sanford 49-0.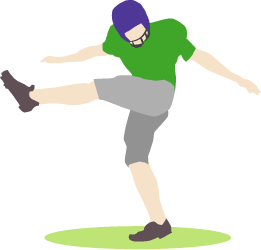 The Vince Lombardi Trophy is awarded to the winners of the Super Bowl.
The first black player in the American League was Larry Doby with the Cleveland Indians in 1947.
First Instant Replay was used during Army Navy Football Game at Municipal Stadium Philadelphia on December 7, 1963, invented by CBS Director Tony Verna
The first professional football team to sport an insignia on their helmets was the Los Angeles Rams in 1950, who hand painted yellow horns on their blue leather helmets.
The first Super Bowl was played in 1967. The Green Bay Packers of the National Football League defeated the Kansas City Chiefs of the American Football League, 35-to-10.
The Four Horsemen of the Fighting Irish of Notre Dame played together for the last time in 1925, as the Irish downed Stanford in the Rose Bowl, 27-10. The Four Horsemen were Jim Crowley, Elmer Layden, Don Miller and Harry Stuhldreher.
Who scored the final college touchdown of the 20th century? Kirk Johnson, QB (U.of Illinois) on Dec.30, 1999 in the Micron Bowl.
---
---
Related Pages

Any comments, suggestions, or corrections? Please let us know.