Double Knee to Chest Stretch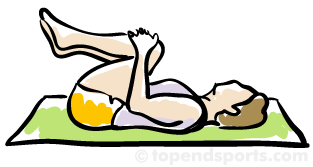 Muscles Stretched: lower back, hamstrings, glutes
Description
Lie on your back.
Lift both knees to your chest.
Wrap your arms around your legs just below your knees, and pull them to your chest.
Hold the stretch.
Repeat for the other side.
---
---
Notes
Assist the stretch by pushing your tailbone into the ground. Ultimately you want to bring your knees to your chest while your tailbone touches the ground.
---
---
Related Pages
Related Products

Any comments, suggestions, or corrections? Please let us know.
Disclaimer