World Series Baseball Trivia
The first world series was played in 1903 when the Boston Pilgrims beat the Pittsburgh Pirates.
The only World Series triple play was by Bill Wambsganss in Game 5 of the 1920 series.
Usually the series is decided with a best of 7 playoff, but it 1903, 1919, 1920, and 1921, the winner was determined through a best-of-9 playoff.
The World Series was first broadcast on television in 1947 (though it was only televised to a few surrounding areas). In 1951 it was televised coast to coast. 1955 marked the first time that the World Series was televised in color.
The Baseball World Series MVP award was first given in 1955. It was originally given by the editors of SPORT magazine.
New York Yankee Don Larsen threw the only "no hitter" in world series history in 1956.
In 1960, Bobby Richardson of the New York Yankees, won the MVP despite playing in the losing team.
---
---
The first time the Commissioner's Trophy was awarded was in 1967.
The first scheduled night World Series game was Game 4 of the 1971 World Series at Three Rivers Stadium.
Game three of the 1989 World Series was postponed when an earthquake rocked the stadium.
World Series games between Toronto Blue Jays and Atlanta Braves were contested outside of the United States for the first time in 1992 (they were played in Canada).
There was no award in 1994 as there was no World Series due to a player's strike
1981 and 2001 there were co-MVPs awarded.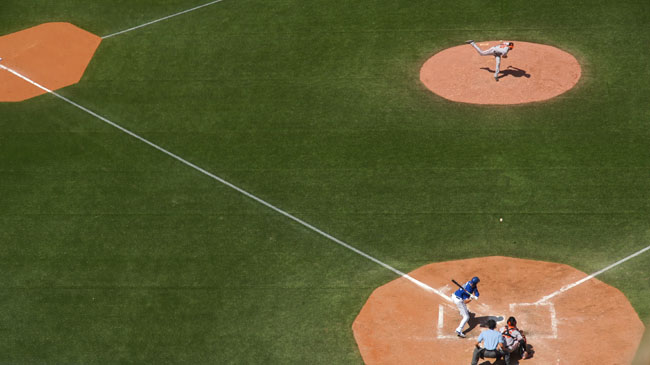 The Commissioner's Trophy features 30 flags representing the 30 teams in North America's two top leagues (the National League and the American League).
The 2009 winner Hideki Matsui was the first Japanese-Born World Series MVP.
In game 1 of 2015, Eric Hosmer scored both the first run of the game on the first pitch, and the last run of the game on the final pitch, the first time in World Series history.
The 2015 series was the first in which both teams were expansion teams (teams that were formed after the 1960 season).
The 2016 winners the Chicago Cubs broke the longest World Series championship drought, with their last title coming in 1908 (108 years previous).
The 2019 World Series was the first best-of-seven postseason series in any of the major North American sports leagues in which the visiting team won all seven games.
---
---
Related Pages

Any comments, suggestions, or corrections? Please let us know.