Reducing Injuries While Skiing
Every year, many people get to the slopes o the first day of the skiing season, go all out and end up being injured or at least very sore. Getting up the next day is an effort, and your skiing holiday could be less enjoyable. A little bit of planning and preparation could mean a much more enjoyable time for all.
The knee is the most commonly injured joint in snow sports. The anterior cruciate and medial ligament are common, and these injuries require extensive treatment and rehabilitation. Another common injury is the wrist for snowboarders, so the wearing of a wrist guard is important.
Before You Go
You should begin your pre-skiing training program a couple of months before you plan to go. Once you are on the slopes, it is too late to build your fitness up to the required level.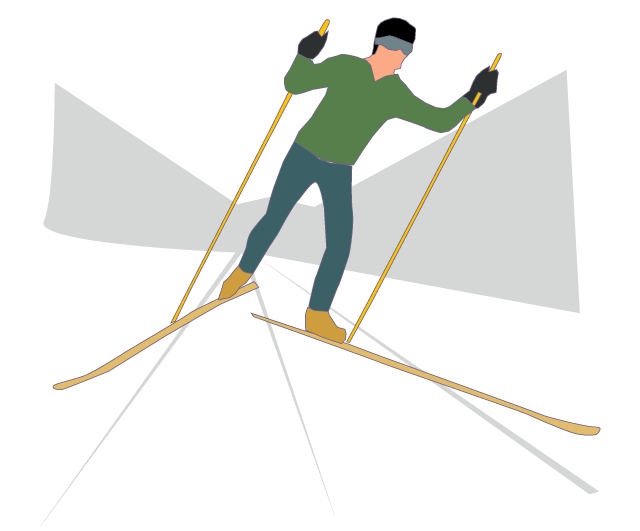 You should perform specific exercises related to the activity you will be performing, as well as general fitness exercises such as running and cycling to improve your cardiovascular fitness. For more information about fitness training, see the general fitness section.
You should also perform strengthening exercise of the specific muscles that will be well used on the slopes, such as your thighs, butts, core stabilizers and triceps. This will help reduce the risk of injury and soreness, and consequently your enjoyment.
Once you are there
Once at your destination make sure you give yourself a good stretch, and if you have traveled a long way, break up the journey to stretch and relax your muscles.
Before you put on your gear each morning, warm up and stretch your thigh, calf and upper body muscles. On the snow, start gradually with a few easy runs each time.
Injury Treatment
If you are unlucky enough to injure yourself, the best treatment is RICE (see RICE page). It is not a plate of rice to eat, but the combination of rest, ice, compression and elevation. Luckily there is plenty of ice available around you. You should seek the help of a medical center, which is normally located nearby. The coldness often reduces pain and a serious injury may be avoided.
Related Pages

Any comments, suggestions or corrections? Please let us know.