Nike Mercurial Vapor - Super Soccer Shoes
The Mercurial Vapor is a line of scientifically designed football boots which have been around for over ten years. The boots feature Speed Plate technology, which is designed to give players instant acceleration and make them fastest to and with the ball. The shoe is also very light, making it built for speed.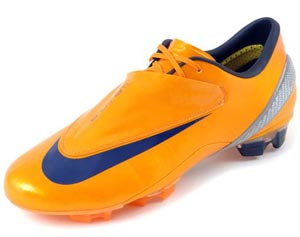 The Mercurial boot was first designed specifically for Brazilian soccer striker Ronaldo in 1998. If fact, since the release of the shoe many of the top-scorers in the English Premier League have worn Mercurial Vapor boots. See a video of the Manchester United winger Cristiano Ronaldo wearing the latest Mercurial Vapor IV in a race against a Bugatti Veyron.
Features
Lightweight
Speed Plate technology
Purchase
---
---
Related Pages

Any comments, suggestions, or corrections? Please let us know.