Lange Skinfold Caliper
Skinfold calipers are used in the measurement of skinfold thickness and the estimation of total body fat. There are a range of skinfold calipers available, including the following.
---
---
Lange Caliper
The Lange Skinfold Caliper is manufactured by Beta Technology Inc. and has been produced since 1962, and is widely used in schools, colleges and fitness centers. For many professionals it is the definitive instrument for measuring skinfold thickness. This device is sturdy yet lightweight, made out of metal with an anticorrosive coating and comes with an attractive case.
These calipers feature spring-loaded arms providing a constant standard pressure of 10 gm./sq.mm. over the operating range. Another feature of these calipers are floating (pivoted) tips that can adjust to enable parallel measurement of skinfolds. The face area is approximately 30 square mm. An easy-to-read scale permits reading up to 60 mm. Accurate to +/- 1 mm. It includes an instruction booklet and handy carry case. The caliper should be regularly calibrated - you can buy a calibration block for the Lange Skinfold Caliper.
Purchase on Amazon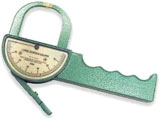 Lange Skinfold Caliper — You can purchase the Lange skinfold caliper on Amazon, with and without a calibration block. The product comes with an instruction booklet and a handy carry case.
Calibration Gauge Block for Lange Skinfold Caliper — The calibration block is used to check the calibration of the Lange Skinfold Caliper.
Lange caliper and other skinfold calipers are also available in the Fitness Testing Store.
---
---
Related Pages

Any comments, suggestions, or corrections? Please let us know.