Nordic Combined
Nordic Combined is a winter sport that involves competing in ski jumping and cross-country skiing as a part of a single competition. The sport has been part of the Olympics since 1924, and has been dominated by athletes from the Nordic countries.
---
---
Competitions are conducted as a two day event in which athletes compete on the ski jumping part of the race on day1 followed by the cross-country part on the following day. The results of the ski jumping part of the race are used to determine the starting order for the cross-country part of the race.
The cross-country part of the race has a staggered start, with the athlete who had the best jump starting at 00h:00m:00s, followed by one athlete at a time, each starting after a time delay. The athlete to first cross the finish line of the cross-country part of the race is declared as the winner.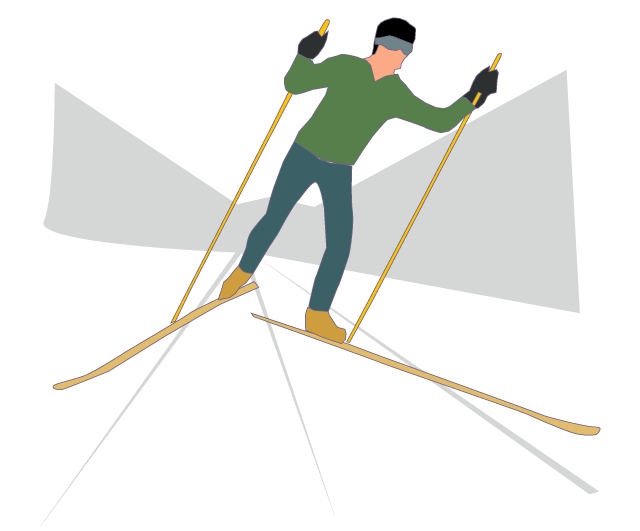 Races can be contested individually or in teams. The three main formats of race are,
Individual: The ski-jumping is conducted on a normal hill on day 1 followed by a 15km cross-country ski on day 2.
Sprint: Ski-jump from a large hill on day1 followed by a 7.5km ski the following day.
Team: Four athletes compete, where each makes two jumps on the first day, followed by a 4 X 5km relay race the following day.
---
---
Similar Sports
Nordic Skiing — a field of competitive skiing that includes all events where the heel of the boot cannot be fixed to the ski (as opposed to Alpine skiing).
Ski Jumping — a form of skiing in which an athlete will take off a ramp and jump as high and far as possible.
Cross-Country Skiing — races over snow-covered terrain using skis.
Winter Triathlon — athletes compete in running, mountain biking and cross-country skiing.
Ski Flying — a winter sport similar to ski jumping in which the skier will come down and take off from a ramp and fly the farthest possible distance.
Related Pages

Any comments, suggestions, or corrections? Please let us know.