Back Extension Stretch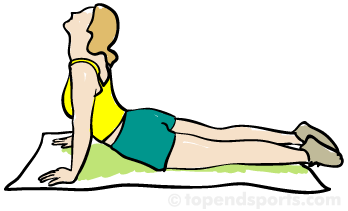 Muscles Stretched: abdominals, front neck
Description
Start by laying on your front, with your hands close to your chest, fingers pointing forwards.
Exhale, pushing yourself up with your arms while keeping both feet firmly on the floor and your hips down.
Look up toward the ceiling. You should feel the stretch in front of your neck too.
---
---
Related Pages
Related Products

Any comments, suggestions, or corrections? Please let us know.
Disclaimer