The Greatest Wrestler at the Olympic Games
Who is the greatest wrestler of all time based on Olympic Games performances? We have used a weighted total medal count of each wrestler from all modern Olympic Games to rank their overall performance.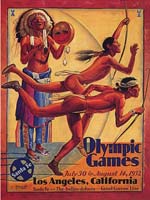 The best performing judoka ever at the Olympic Games is Japanese female Kaori Icho, who won a gold in 2016 to take her tally to four golds in four Olympic Games. The best all-time performing male wrestlers at the Olympic Games are Russian Alexander Karelin and Artur Taymazov from Uzbekistan, each with three gold medals and one silver. See the table below to see how other athletes ranked.
See also the best athlete from each sport, and the best overall.
Top Olympic Games Wrestlers
Here are the top ranked athletes from the sport of Wrestling for performances at all Olympiads, using the Topend Sports Weighted Ranking System to order the athletes, awarding points for both gold (6 points) and other medals (silver 2 pts, bronze 1 pt).
Table: The Top Ranked Athletes from Wrestling at the Olympic Games
rank
name
country
Gold
Silver
Bronze
total
medals
rating
1
Kaori Icho
Japan
F
4
0
0
4
24
=2
Alexander Karelin
Russia
M
3
1
0
4
20
=2
Artur Taymazov
Uzbekistan
M
3
1
0
4
20
=4
Ivar Johansson
Sweden
M
3
0
0
3
18
=4
Alexander Medved
Soviet Union
M
3
0
0
3
18
=4
Buvaisar Saitiev
Russia
M
3
0
0
3
18
=4
Carl Westergren
Sweden
M
3
0
0
3
18
=4
Saori Yoshida
Japan
F
3
0
0
3
18
Related Pages

Got any comments, suggestions or corrections? Please let us know.
Old Comments
Who cares about medals when Dan Gable wins gold without a single point scored on him.
No way Kaori Icho should be in that mix (from Mikey, Jan 2013)
No Very wrong, Iran has at least three or four wrestlers who are in the range of 3 gold and 2 silver or even undefeated, from the 1950s Olympics up to 2012 - this is very biased.
Kurt angle or jake varner should be up there at least someone from USA if not it will be me up there one day (from Tony halcon, Oct 2012)