The Greatest Football player at the Olympic Games
Who is the greatest football player of all time based on Olympic Games performances? We have used a weighted total medal count of each male and female Football player from all modern Olympic Games to rank their overall performance.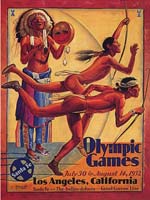 The best all-time performing football (soccer) players at the Olympic Games is the four female players listed below, all part of the US team that has won three gold medals (between 2004 and 2012), with Christie Rampone also winning one silver from the 2000 Games. There are at least 15 female soccer players from the USA who have won at least 2 gold medals, and at least 13 male players who have won two gold medals.
See also the best athlete from each sport, and the best overall.
Top Olympic Games Football Players
Here are the top ranked Olympic football players based on performances at all Olympiads, using the Topend Sports Weighted Ranking System to order the athletes, awarding points for both gold (6 points) and other medals (silver 2 pts, bronze 1 pt).
Table: The Top Ranked Athletes from Football at the Olympic Games
rank
name
country
gender
Gold
Silver
Bronze
total
medals
rating
1
Christie Rampone
USA
F
3
1
0
4
20
=2
Shannon Boxx
USA
F
3
0
0
3
18
=2
Heather Mitts
USA
F
3
0
0
3
18
=2
Heather O'Reilly
USA
F
3
0
0
3
18
Related Pages

Got any comments, suggestions or corrections? Please let us know.
Old Comments
My best player at olypic is Neymar or Oscar. (from Adebohun Saheed Akorede, 14 Aug 2012)
Neymar is soppose to rate as the best player of Olympic (from Usama, 11 Aug 2012)
all+players of football have to respect neymar be cause he play+like ronaldo (from umar+ahmad+almahdi, 8 Aug 2012)
I like olymic games very much.My best player is neymar in Brazil (from Sajedur Rahaman, July 2012)