Overhead Shoulder Stretch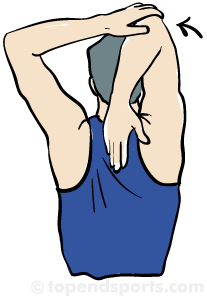 Muscles Stretched: deltiod middle head, lateral and medial head of triceps.
Description
Stand straight with your shoulders back, chest out, and feet shoulder width apart.
Raise one arm overhead, bend the elbow, and place your the hand behind your neck.
With your other hand, grasp your elbow and gently pull it behind your head.
Hold the stretch
Relax and repeat with opposite arm.
Notes
To increase the amount of stretch, at the same time, with the hand that is behind your head, attempt to reach down between you shoulder blades and along your spine.
---
---
Related Pages
Related Products

Any comments, suggestions, or corrections? Please let us know.
Disclaimer