Shoulder Flexion Stretch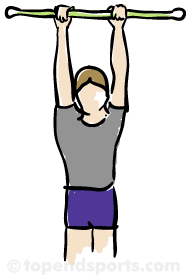 Muscles Stretched: pecs, trapezius, latissimus dorsi, teres major
Description
Hold onto a bar or wooden handle with hands shoulder width apart (optional).
Reach overhead with both arms, gently pushing the arms back behind the body.
Hold the stretch.
Relax then repeat.
Notes
This stretch can also be performed as a ballistic stretching exercise, swinging the arms up and back.
---
---
Related Pages
Related Products

Any comments, suggestions, or corrections? Please let us know.
Disclaimer