Biacromial Shoulder Width
Biacromial width (width across the shoulders) can be used as a measure of development. By taking the measurement of away from a measure of arm span, the average arm length can also be determined. See more about Measuring Breadths / Widths.
---
---
purpose: to measure the distance across the shoulders.
equipment required: breadth calipers are best, though you can also use a ruler or tape measure
procedure: The measurement is taken as the distance between the lateral borders of the acromion processes (the two bones at the ends of the shoulders)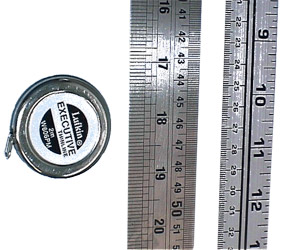 advantages: very low cost, simple and quick test.
disadvantages: This measure can be difficult to do accurately. It is important to measure only to the point of the bony structure, not to the extent of the muscle bulk.
---
---
Similar Tests
Related Pages

Any comments, suggestions, or corrections? Please let us know.