The Greatest Water Polo player at the Olympic Games
Who is the greatest Water Polo player of all time based on Olympic Games performances? We have used a weighted total medal count of each male and female Water Polo player from all modern Olympic Games to rank their overall performance.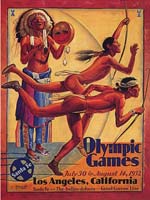 The best all-time performing Water Polo player at the Olympic Games is Hungarian player Dezső Gyarmati, who won 3 golds and one silver and bronze between 1948–1964. Another water polo player, Paulo Radmilovic of Great Britian, has won 4 Olympic gold medals, however one of these was in a swimming event. See the table below to see how other athletes ranked.
See also the best athlete from each sport, and the best overall.
Top Olympic Athletes From Water Polo
Here are the top ranked athletes from the sport of Water Polo for performances at all Olympiads, using the Topend Sports Weighted Ranking System to order the athletes, awarding points for both gold (6 points) and other medals (silver 2 pts, bronze 1 pt).
Table: The Top Ranked Athletes from Water Polo at the Olympic Games
rank
name
country
gender
Gold
Silver
Bronze
total
medals
rating
1
Dezső Gyarmati
Hungary
M
3
1
1
5
21
2
György Kárpáti
Hungary
3
0
1
4
19
=3
Paulo Radmilovic
Great Britain
M
3
0
0
3
18
=3
Tibor Benedek
Hungary
M
3
0
0
3
18
=3
Péter Biros
Hungary
M
3
0
0
3
18
=3
Tamás Kásás
Hungary
M
3
0
0
3
18
=3
Gergely Kiss
Hungary
M
3
0
0
3
18
=3
Tamás Molnár
Hungary
M
3
0
0
3
18
=3
Charles Sydney Smith
Great Britain
M
3
0
0
3
18
=3
Zoltán Szécsi
Hungary
M
3
0
0
3
18
=3
George Wilkinson
Great Britain
M
3
0
0
3
18
Related Pages
Comments