The Greatest Gymnasts at the Olympic Games
Who is the greatest Gymnast of all time based on Olympic Games performances? We have used a weighted total medal count of each male and female Gymnast from all modern Olympic Games to rank their overall performance.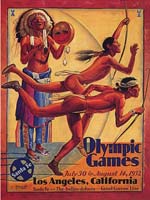 The best all-time performing Gymnast at the Olympic Games is clearly Soviet gymnast Larisa Latynina, with nine gold medals and a total of 18, awarded between 1956–1964. The highest ranked male gymnast is Sawao Kato of Japan with eight gold medals. See the table below to see how other athletes ranked.
See also the best athlete from each sport, and the best overall.
Top Olympic Games Gymnasts
Here are the top ranked athletes from the sport of Gymnastics for performances at all Olympiads, using the Topend Sports Weighted Ranking System to order the athletes, awarding points for both gold (6 points) and other medals (silver 2 pts, bronze 1 pt).
Table: The Top Ranked Athletes from Gymnastics at the Olympic Games
rank
name
country
gender
Gold
Silver
Bronze
total
medals
rating
1
Larisa Latynina
Soviet Union
F
9
5
4
18
68
=2
Sawao Kato
Japan
M
8
3
1
12
55
=2
Nikolai Andrianov
Soviet Union
M
7
5
3
15
55
4
Boris Shakhlin
Soviet Union
M
7
4
2
13
52
5
Věra Čáslavská
Czechoslovakia
F
7
4
0
11
50
6
Viktor Chukarin
Soviet Union
M
7
3
1
11
49
=7
Takashi Ono
Japan
M
5
4
4
13
42
=7
Akinori Nakayama
Japan
M
6
2
2
10
42
9
Vitaly Scherbo
Belarus
M
6
0
4
10
40
10
Ágnes Keleti
Hungary
F
5
3
2
10
38
=11
Nadia Comăneci
Romania
F
5
3
1
9
37
=11
Polina Astakhova
Soviet Union
F
5
2
3
10
37
13
Mitsuo Tsukahara
Japan
M
5
1
3
9
35
=14
Alexei Nemov
Russia
M
4
2
6
12
34
=14
Yukio Endo
Japan
M
5
2
0
7
34
=16
Ludmilla Tourischeva
Soviet Union
F
4
3
2
9
32
=16
Anton Heida
United States
M
5
1
0
6
32
=16
Nellie Kim
Soviet Union
F
5
1
0
6
32
=19
Georges Miez
Switzerland
M
4
3
1
8
31
=19
Zou Kai
China
M
5
0
1
6
31
21
Olga Korbut
Soviet Union
F
4
2
0
6
28
=22
Vladimir Artemov
Soviet Union
M
4
1
0
5
26
=22
Valentin Muratov
Soviet Union
M
4
1
0
5
26
=22
Ecaterina Szabo
Romania
F
4
1
0
5
26
=25
Simone Biles
United States
F
4
0
1
5
25
=25
Li Xiaopeng
China
M
4
0
1
5
25
=25
Giorgio Zampori
Italy
M
4
0
1
5
25
Related Pages
Comments
Old Comments
best gymnest ever gabby dubless should be on that chart (from mia, Jan 2013)
that is amasing those records that people have set (from jullz132, Aug 2012)