The Greatest Fencing Athlete at the Olympic Games
Who is the greatest Fencing athlete of all time based on Olympic Games performances? We have used a weighted total medal count of each male and female Fencing athlete from all modern Olympic Games to rank their overall performance.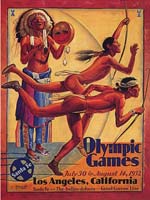 The best all-time performing Fencing athlete at the Olympic Games is Italian Edoardo Mangiarotti who won 13 medals, including 6 golds, in an Olympic career spanning 1936–1960. Hungarian Aladár Gerevich has won one more gold, but less overall medals. The female with the most gold medals is Italian Valentina Vezzali also with six gold medals. See the table below to see how other athletes ranked.
See also the best athlete from each sport, and the best overall.
Top Olympic Games Fencers
Here are the top ranked athletes from the sport of Fencing for performances at all Olympiads, using the Topend Sports Weighted Ranking System to order the athletes, awarding points for both gold (6 points) and other medals (silver 2 pts, bronze 1 pt).
Table: The Top Ranked Athletes from Fencing at the Olympic Games
rank
name
country
gender
Gold
Silver
Bronze
total
medals
rating
1
Edoardo Mangiarotti
Italy
M
6
5
2
13
48
2
Aladár Gerevich
Hungary
M
7
1
2
10
46
3
Valentina Vezzali
Italy
F
6
1
2
9
40
4
Pál Kovács
Hungary
M
6
0
1
7
37
5
Rudolf Kárpáti
Hungary
M
6
0
0
6
36
6
Nedo Nadi
Italy
M
6
0
0
6
36
7
Giovanna Trillini
Italy
F
4
1
3
8
29
8
Giuseppe Delfino
Italy
M
4
2
0
6
28
9
Christian d'Oriola
France
M
4
2
0
6
28
10
Lucien Gaudin
France
M
4
2
0
6
28
11
Elena Novikova-Belova
Soviet Union
F
4
1
1
6
27
12
Viktor Sidyak
Soviet Union
M
4
1
1
6
27
13
Ramón Fonst
Cuba
M
4
1
0
5
26
14
Győző Kulcsár
Hungary
M
4
0
2
6
26
15
Stanislav Pozdnyakov
Russia
M
4
0
1
5
25
16
Jenő Fuchs
Hungary
M
4
0
0
4
24
17
Viktor Krovopuskov
Soviet Union
M
4
0
0
4
24
18
Carlo Pavesi
Italy
M
4
0
0
4
24
Related Pages
Comments